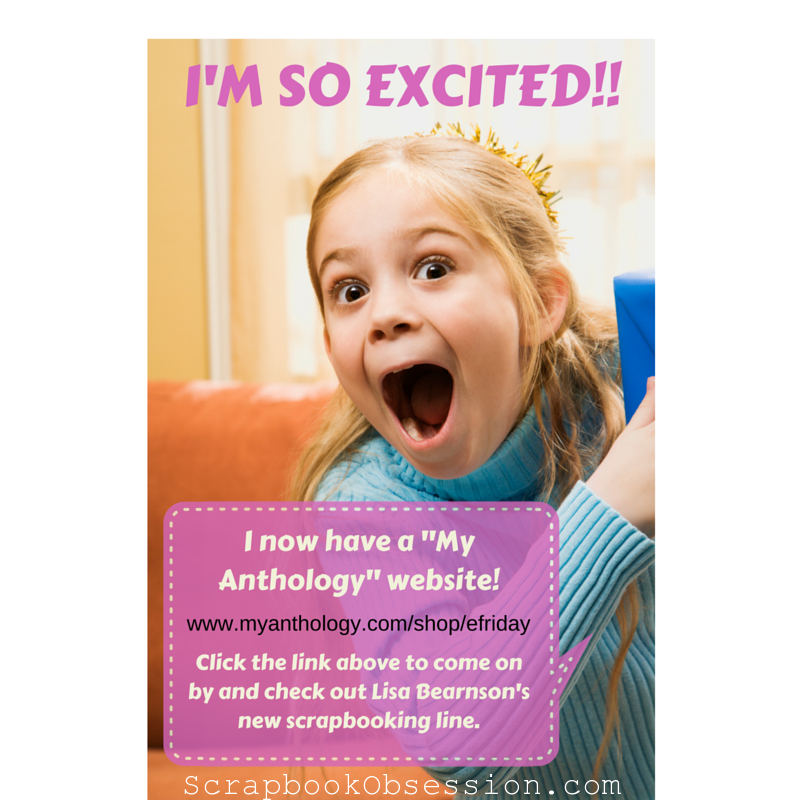 Yep, I'm like a little girl I don't know about to open her birthday presents! Hee heeee . . .
One of the many great ways that Lisa Bearnson is supporting her team (#TeamLisaBearnson) is by providing us with our own "My Anthology" websites. She knows that the experience for YOU, the customer, will be so much better this way. Instead of going to the huge Youngevity website or the Heritage Makers scrapbooking website, you can now go straight to the source to look at Lisa's "Anthology" scrapbooking products.
Like most direct sales companies, there is a monthly charge to have our own consultant website. But the cool thing is – because I'm at CEO level and I meet the required amount of monthly auto-ship – I get my site for free. Double woot!
So . . . may I take you on a tour?
HERE is MY "My Anthology" website! (www.myanthology.com/shop/efriday)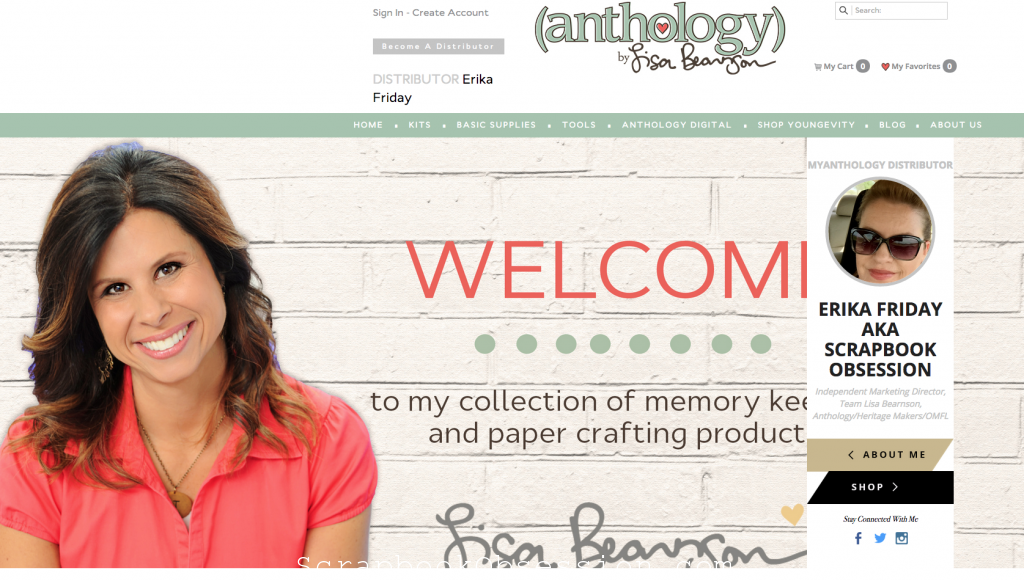 In the sage green bar near the top, you can see the KITS, BASIC SUPPLIES, and TOOLS.
You can also see ANTHOLOGY DIGITAL. Yes, people, we have cut files to use with your Silhouette and other digital cutters!
If you're curious about the other cool products I sell via Youngevity, there's a link for that, too! In my Youngevity shop (https://erikafriday.youngevity.com/), I have awesome things you might need like mineral make-up, ground coffee and K-cups, weight loss drops (which I'm using daily now; will report back!), pet supplies, all kinds of stuff.
Youngevity is known as "the Amazon of direct sales." It's a lot of stuff we all buy anyway so why not become a distributor (only $25), buy your "normals", and make a little dough on the side?
From my new site, you can also see the cool stuff Heritage Makers has going on because it links to THEIR BLOG. HM is the digital scrapbooking, photo books, and photo gifts arm of Youngevity. You've heard me say a million times that I'll never be a digital scrapper. But making a tote bag with all my kids' sports photos on it doesn't count, does it? I'm also thinking: Christmas gifts . . . from the heart . . . from someone (me) who doesn't have time to make 10 mini albums ;) (Cheater, cheater, LOL).
There's a link on my new "My Anthology" website to learn more about Lisa Bearnson and why she started Anthology.
Lastly but not leastly, if you're thinking about becoming a distributor for Anthology, Heritage Makers, and/or Our Memories for Life, there's a link for that too. I'd LOVE to have you on my team :)
So there's my "My Anthology" site! I'm so stoked! Now I can easily show off our products, take orders, and sign up customers and consultants.
I'm tellin' you, now it's goin' down for real.