Are you a list maker?
As you know, I adore Layle Koncar and all her work for one of my fave brands, SIMPLE STORIES. So I follow her blog and saw THIS POST from her recently. Since April (2015), she's been doing the "Listers Gotta' List" challenge – which you can find out more about HERE.
Here's a video Layle made of her Listers Gotta' List album so far:
Okay, now you want to do this challenge, don't you? Seeing her awesome little album sure made me want to jump in! I've been too busy with work and life to do much scrapping at home these days, but this seems like a do-able project. I know I can't do a list per day like Layle does but even if I do 1 per week, I'd be getting something done, right? Maybe I can catch up on weekends.
"Listers Gotta' List" Challenge
The challenge is totally FREE – although the organizer The Reset Girl does have kits for sale if you like right HERE :) Super cute.
So I just went and downloaded all the challenge files that have been posted so far, April through July 2015. Here's what the first sheet looks like, to give you an idea: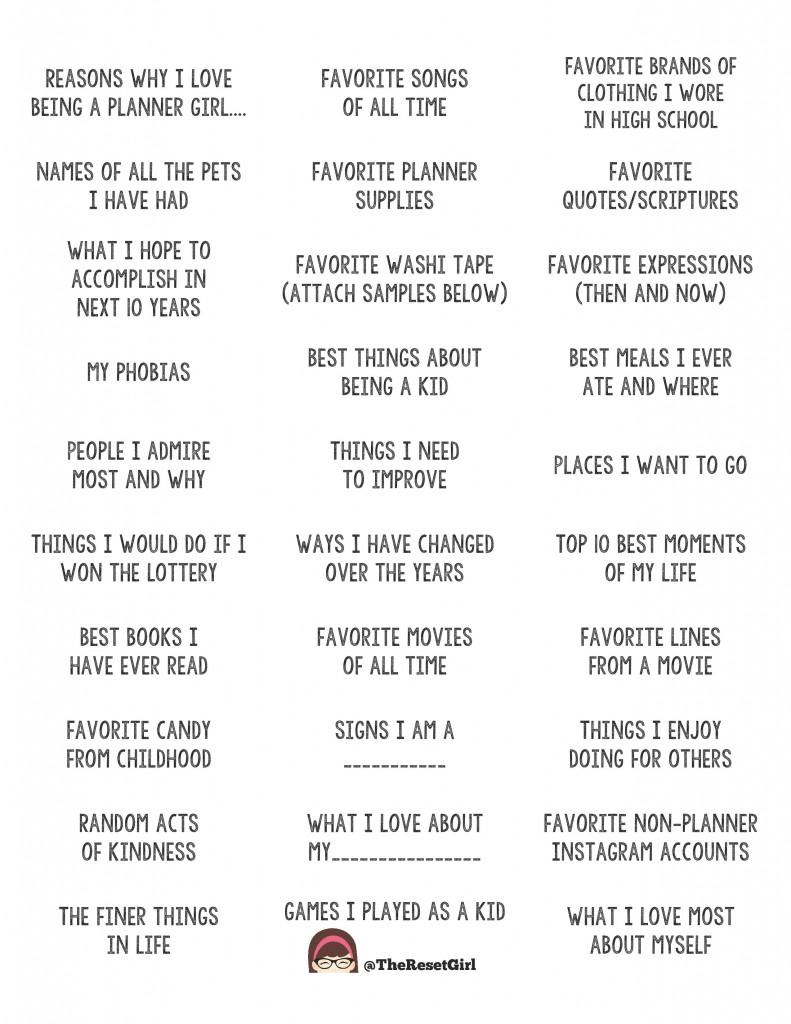 I love the font she uses for the list titles. You can either print her titles out on stickers or re-write or re-format/print them yourself. The sky's the limit, really. There are some lists I won't do (Favorite Non-Planner Instagrammers, for instance) so I'm thinking about – for continuity sake – just using her master list each month, picking out the ones I want make lists of, and handwriting them myself.
Now for the format . . . hmmmm. What should I do?
Travel Planner?
I like the little travel planners that both The Reset Girl and Layle used. They're slim, affordable, have a non-intimidating space to fill up, etc.
Project Life Style?
I'm also thinking about doing this using Project Life supplies. Lawdy knows, I have enough cards to use, LOL! . . . and page protectors . . . and albums, both 12×12 and 6×8. That would make it easy to include photos in with my lists. Oooh! Or maybe even use one of these Project Life slim mini albums
. Say what? The Cherry album
is only $4.43 on Amazon right now!
Simple Stories Sn@p Album?
Mainly 'cuz I have this gorgeous "I Am" line to use and this project seems perfect! A little birdie told me that Simple Stories has a new line coming out in the fall that matches "I Am" very nicely. So I can keep going with the look even when I go through my "I Am" supplies.
Decisions, Decisions!
Well, I'll be thinking about how to approach this but I don't want to think too long or I won't start. Which approach would you choose?
Have you done a listing challenge before? I've seen others and they seem like so much fun. I've attempted them way in the past and never stuck with them, unfortunately. Maybe all the support for this one will keep me going. Are you going to try this one? If you do, let me know!