Yay! The scrapbooking/cardmaking sketch books I talked about HERE arrived last week!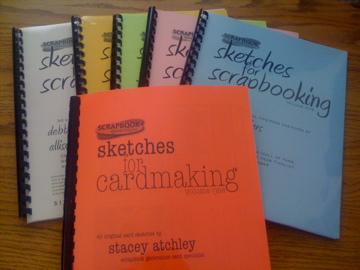 I spent some time today taking the Peas' suggestion and compiling them all into one binder. In other words, I'm disassembling the books and putting each page into a binder sorted by the number of photos in the sketch. Well, when I'm done I'll tell you more about it and show some pics.
I also did some scrapping Saturday at the online crop I talked about HERE. Well, kinda. I did a layout for a monthly Sketch challenge posted by JULIE. It was to make a layout inspired by this sketch (it's from Jana Eubanks):
And here's what I came up with.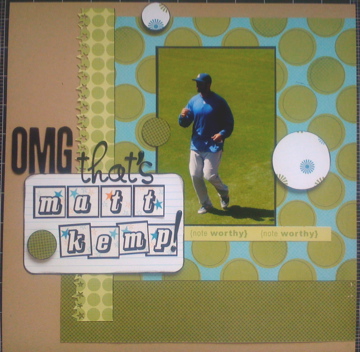 All the papers are "vintage" Scenic Route, lol. Three of the four circles are pop-dotted for dimension. I was hoping all the circles I used were reminiscent of … um … baseball? The "OMG" are chipboard Thickers, and the apostrophe and exclamation point are from that Sandylion epoxy sticker pack I showed you HERE.
For those non-baseball fans … well, first of all, whatsa matta you? You don't love BASEBALL?!?! You should. It rawks. Anyway, we're LA Dodger fans and were lucky enough to see a Spring Training game – Dodgers vs. Angels – on our trip to Phoenix last month. It was very exciting to see superstar MATT KEMP so close. He warmed up on the corner of the field closest to where we were sitting and we got all kinds of photos.
How was your weekend? Do anything scrappy? If you did any layouts, leave me a link to go check 'em out, pretty please!