At 3am today, I finished the challenge from CKMB to organize my scrap space…wahoo! Here are the BEFORE pics:
And AFTER pics: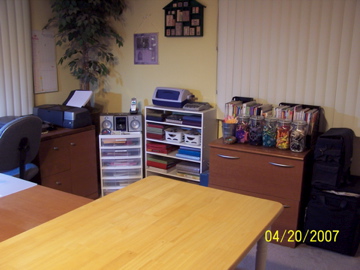 I still have some work to do, like organizing my massive quantities of photos (heritage, childhood, high school…to about 2003). I'm also looking into a bookshelf or some other way to store my finished scrapbooks in my living room. Right now, they take up a good chunk of my scrapping bookshelf. For the living room, I'm digging this IKEA Expedit bookshelf . We don't have an Ikea around here but I think I can purchase it online…if I can get hubby to agree that it's $200 well spent (wish me luck). Edited: Ummm, make that over $400 when you include shipping. May have to wait until I can travel to an IKEA, gulp.
Back to the scrapbook organizing! Other than what I mentioned in my last post, here are the top 10 things I did to organize my space:
1. Went through a huge stack of patterned papers that I bought or was given over the course of the last year and didn't put away. I already had specific Cropper Hopper vertical holders or files for Chatterbox, Memories Complete, SEI, Doodlebug, KI Memories and Bo Bunny. In this process, I located enough Basic Grey, Daisy Ds and My Minds Eye (thanks to that Costco double pack) that I had to create folders for them too. They all look nice and comfy standing next to each other on my bookshelf.
2. Went through a huge stack of embellishments that needed were scattered everywhere. I got some of them put away in my ScrapRack, and put the rest in an Iris drawer for later filing. By cleaning out all my 12×12 Iris drawers, I now have someplace to store things until I have time to file them instead of piling them on my desk or leaving them in shopping bags all over the floor. I will try to file things right away, but if they do go in the Iris drawers, I only have so much space to fill before I have to stop and put things away.
3. Dusted! Wow, a lot of dust builds up when you don't scrap for a year. Yuck….but nice now :)
4. Put all my computer-related software, blank photo CD's, etc in one drawer of my desk. Sorted through two other desk drawers and made room for tools I don't use often.
5. Got rid of two old wooden vegetable crates that I'd been using in the corner as a little shelf and moved my Iris "project sorter" into their place with the mini stereo and telephone on top.
6. Fixed my "letter E" collection that had fallen off the shelves when my husband was pounding on the garage wall awhile back.
7. Took most of the white plastic baskets out of my little shelf unit and filed that stuff elsewhere. They were not covered baskets and everything got too dusty. Moved all my mini-albums from various places around the room onto the shelf instead. Note to self: Dust once in a while.
8. Things that were sorted through and tossed or moved out of my scrap space: old scrapbook catalogs (do I HAVE to hold on to every single one?? Jeez.), past issues of scrap magazines, birthday gifts for others that I have been stashing under my desk, and my huge collection of photo frames.
9. Purged a stack of newspapers after cutting out and Archival Misting the obits or articles I wanted (someone close to me is quoted in the paper a lot).
10. Consolidated my page kits and project kits from crops, CKU, the cruise etc into one plastic crate which now sits under the table.
Oh, speaking of table, I added a table to my area and am thrilled with the amount of workspace I now have. I can even have a friend over to crop with me in there now! (DH will be happy we're not all over the dining room table anymore, LOL).
I don't think I have any great organizing advice above, except to say "Don't wait as long as I did to purge stuff you won't use or doesn't belong in your scrap space". From things I already had organized, I would highly recommend using cute jars to store your ribbon (decorative, cheap and practical), and utilize Cropper Hopper vertical storage for your papers. They even have 6×6 and 8×8 holders now. It's so much easier to access your papers and not crush them than with horizontal storage.
I still have a little work to do on sorting embellishments and such, then onto the next project: photo and memorabilia organization!