Sorry I haven't posted for over 3 days, I think that's a record for the most time between posts for me, LOL. I started a new job and it's so stressful that by the time I get home and do family/house stuff, all I want to do is go to bed! Which is also why I was lagging on getting my ATC cards done. BUT….I got them finished lastnight and I'm so happy and relieved. So, I guess I should explain about the swap…
Over on the AMR MESSAGE BOARD, about 20 of us are doing an ATC Swap hosted by JINGLE (who does not have a blog….what???…is that even legal in the scrapbook world these days??). We each make a batch of ATC cards, keep one for ourselves, and send the rest to Jingle by April 5, 2008. Then she will separate them out into piles, and mail a set of the ATC cards to each of us. Fun, huh?!?
I'll admit, before deciding to sign up for this swap, I had heard of ATC cards but didn't really know much about them. I thought they were the territory of those 'artsy' types (um, that would be, NOT ME!) because I thought you had to use all kinds of fancy painting, inking, embossing, altered art kinda stuff on them. But, I found that they have evolved into something more accessible to scrapbookers like me, who just like to play with our pretty paper and scallop punches, LOL.
As shared by ANNE MARIE on the AMR board, here is the Wikipedia definition of ATC Cards:
Artist trading cards
From Wikipedia, the free encyclopedia
"Artist Trading Cards are individual art miniatures which pass hand to hand. Some sources have credited M. Vänçi Stirnemann, who began trading sessions in Zurich, Switzerland, in 1997, as popularizing ATCs in the modern era, although modern ATC's can be traced back to portrait miniatures and to a kind of business card popular with Impressionistic era artists.[1]
Artists have produced miniatures for trade or self-promotion in many eras and places, and the current trend is thus part of this larger context. Historically there were few standard rules or guidelines to art trading cards, and many variances in sizes can be seen in older cards. The standardization in size of baseball cards is credited with creating the standardization in size for art cards. Today the only rule for these cards is their 2.5 by 3.5 inch size, same as baseball cards and collectible card games. There are, however, certain conventions usually observed by those who make and trade these cards, such as the expectation that they be traded, not sold, and that they be created as unique works or small limited editions of prints. Artists generally sign and date the back, and may also include a title and contact information. The face-to-face trading session is considered an integral part of the concept, although many people find each other via the internet and trade by mail.
Artist Trading Cards are typically made on a base of card stock. However, ATCs have been created on metal, stiffened fabric, plastic, clay, glass, balsa wood, leather, embroidery canvas, acetate, heavy watercolor paper, and many other materials. The art on the cards can be done in any media: textile arts, pencil, watercolor, acrylic, oil, collage, scratch board, mixed media, assemblage, digital art, calligraphy, beadwork, rubber stamps, carved soft block stamps, pen and ink, colored pencil, airbrush, pastels, and many others – anything artists use."
So, yeah, you can get fancy with it, but the goal of our swap was to "create ATC's that in some way represent YOU. Please be sure to sign each ATC so we know you created it!" And here was my favorite part of the instructions from Jingle: "Please show your best work and be sure to send in pieces that are made neatly and cleanly. (You know…avoid glue boogers and stuff! LOL!)" Yeah, of course we gave her a hard time about the glue boogers comment :) But you know what she's saying…do a good job, not rushed, as people will be showing these off in some manner.
The challenge sounded all well and good but, when I sat down to actually make them, I was shocked at how SMALL 2.5″ x 3.5″ really is. I mean, I'm a 12×12 scrapper for googely sake! How am I supposed to create something that expresses who I am in such a small space? Well, after being in panic mode for awhile, I noticed that other ATC girls started posting their completed ATC's on their blogs and/or the message board, and made them look totally do-able, like KELLIANNIE:
and SCRAPPYSAM: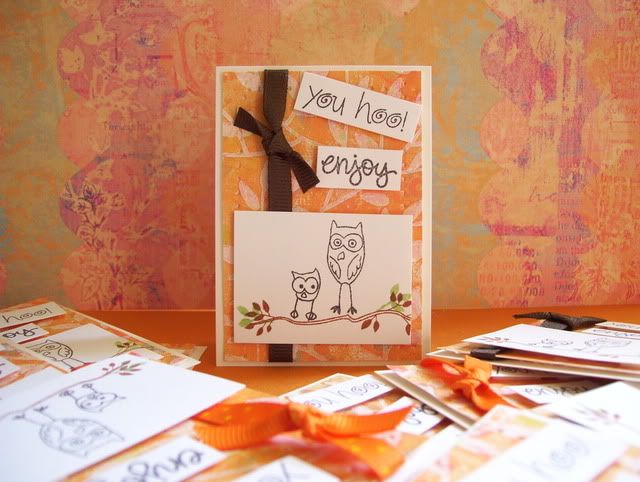 A late addition from ~Q~ (no one knows her real name, a real lady of mystery…), posted just the backs of her ATC's as a teaser:
Also, I think it was Sam who posted a link to fabulous MARFA's blog, where she's been going a little ATC crazy, which works for me because she gave me such inspiration. Here is a POST with some of her beautiful ATC's and I copied some of them below.
When I receive everyone's ATC's from this swap, I think I'll include them in my album in a similar holder page to Martha's. Except I won't sew it myself like she did (cuz I don't know how to sew), but I'll cheat and buy something similar to baseball card holder pages, or maybe there is a 12×12 version from Crop In Style?
But anyway, after seeing how you could just relax and have fun with these cute little cards, I sat down and designed a prototype card in about an hour. Tune in tomorrow for photos of what I came up with, and how I put them together….
Have you done ATC cards? Or a swap of any kind? How did things turn out and would you do it again?