Ah, "clearance" … One of the most beautiful words in the English language. When I walked into Michaels last weekend, and was on the way to the scrapbook aisle, I ran right into a display of scrapbook CLEARANCE.
There were paper packs by K&Co. and Making Memories, …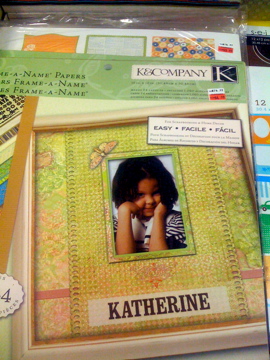 … paper pads by GCD, and SEI.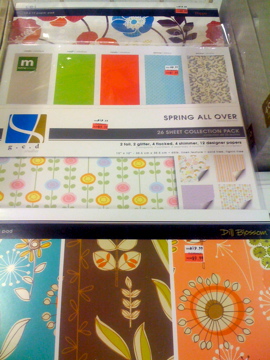 There was this huge pack of 12×12 specialty papers by Prima … super pretty and romantic. If you have a wedding to scrap, I would check this one out!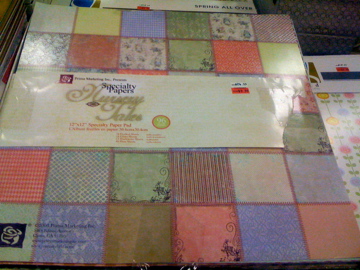 Then over to the "Designer Showcase" or whatever the hell they call that "new scrapbooking stuff" section these days. Here are pics of all 4 sides of it:
Look at that lovely bling!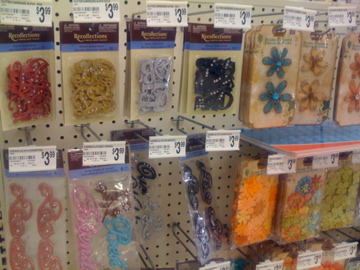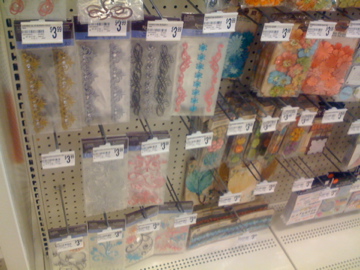 Bling titles this time, and lots of new Soft Spoken.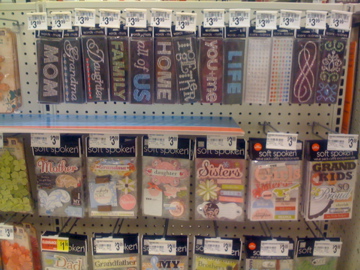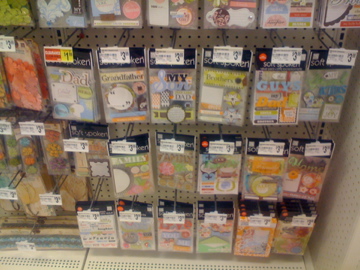 Some new My Minds Eye chipboard and vinyl. Wait, did I say vinyl? Yep, I did. How cool. You can use it on your walls OR your scrapbook pages.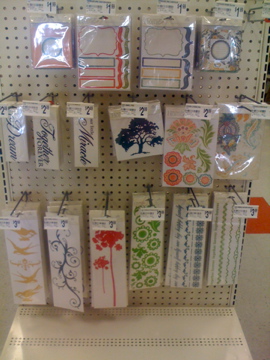 Here's a close-up of the MME "Home" journaling chipboard. The colors are really pretty in person.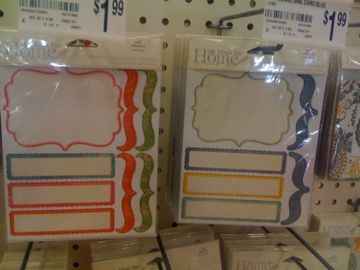 Here's a lotta new K & Company goodness.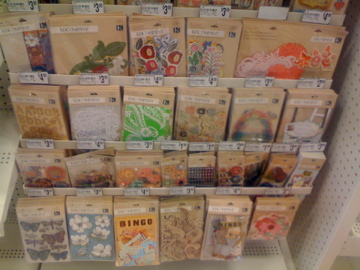 Here are some items I'll be back for with coupons in the future. It pained me to leave "my" things at the store, but I already had a few items and had to call it quits. For now. Are those cupcakes and sweets on the bottom right to DIE for??? Oh. My. Gah! And the branches that look real, and the cute little flowers with bling in the center??? Can you see the red car and cute blue trailer it's towing in the travel set?
After Michaels, I went to Costco. I tell myself not to even bother looking for SBR stuff there anymore because they never have anything … or anything good. But I can never resist checking anyway, and this time I at least found a Purple Cow 2 in 1 paper trimmer. Is that a good price? I don't know. I've been happy ~ infatuated really ~ with my Cutterpede trimmer for so long now, I've never even so much as glanced at another trimmer. When I'm happy, I'm loyal :)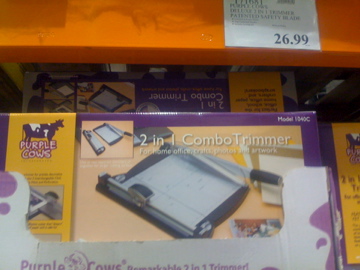 Here are two reads I picked up at Barnes and Noble:
The latest from CK, Scrapbooking Tips & Tricks. Lots of organizational items in here. It's thin, but I still think worth the $6 cover price.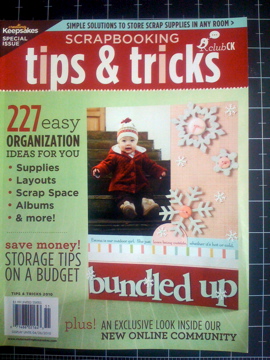 Blogging for Bliss book ($15) by TARA FREY, a mucho successful craft blogger. HERE is Tara's blog entry about her book. I skimmed through it once so far and I LOVE this book! Highly recommend it to anyone who wants to make the most of their craft-related blog.
I found it interesting that the large majority of craft bloggers featured use Typepad. Hmmm… I've been considering switching over there from WordPress, and this just adds another reason.
You may recognize this from the 'Clearance table at Michaels' photos. Yep, I couldn't resist a pack of 12 speciality papers marked down from $10 to $2. Some of them are adhesive backed and will be fun to use in my Cricut. The glittery ones are gorgeous, too.
Got all 3 pieces Mike's had of My Minds Eye "Home" in the pink set. Really, really pretty and only cost $2-$4 each for nice, thick chipboard. You can't tell from the photo, but the frames one has 3 frames in it.
Here's the MME chipboard journaling only, "Home" in blue. And some stinkin' cute epoxy donut stickers by Recollections. They were only $1 and yet they INCLUDED sprinkles! Can you believe that? ("Bad cop. No donut." Bwahahaha, my favorite bumper sticker EVER!).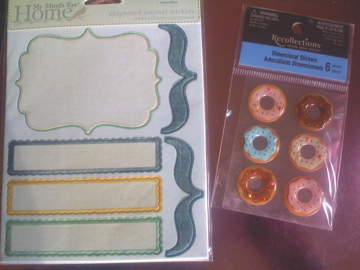 And lastly, 2 packs of Prima flowers in Honeydew and Mango. They were $4 each but I used a 40% off coupon on one of the packs. They coordinate really well with Simple Stories "Life Documented," as I'd hoped, and are the perfect size for my Project 365.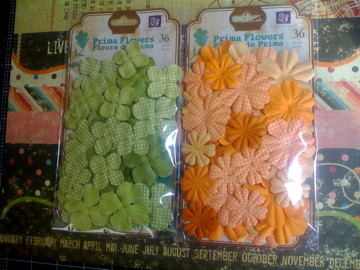 I'm still feeling guilty for buying something at Michaels for full price. I mean, what's the point of that? Oh well.
One last thing: Here is a photo a friend posted of 2 of the new K&Co. ephemera chipboard packs she purchased, so you can have a closer look-see. Really cute and what a great value, especially if you use coupons like she did :)
Tune in again tomorrow for more shopping news: Tuesday Morning and Ross.
What are your latest shopping finds? Have I enabled you with any of mine?