I didn't get one, but took some pics for ya' when I was at Walmart the other day …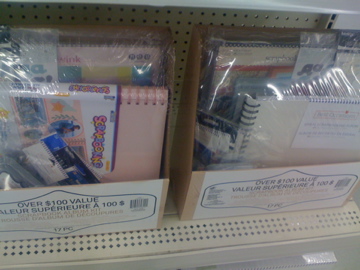 At my WM, they were on an endcap as you entered the crafting area. Each one looked like it had different contents, and it was hard to see exactly what was in there. They were shrink wrapped but I saw some Best Occasions and Autumn Leaves stuff. It was too much a leap of faith for me to buy one, but maybe you'll be willing to take a chance?
THIS Pea bought one and was so happy with it, she went back for another. She posted this photo:
She's right, that idea book alone sold for $20, so there's your value. As it happens, I already have that book and tons of AUTUMN LEAVES stamps (including the ones pictured), so it's probably good I didn't get one of these scrapbook packs at Walmart. But wanted to share in case you "need" one …
I think it's a brilliant idea: Package up a bunch of the scrapbooking supplies they've had forever, sell them at a great price, and get them outta the store … hopefully to make room for some new things … because it's been a really long time since new stuff, at least at my Walmart.
Stay tuned: I have lots more scrap-shopping pictures to post from my weekend, but I had to work tonight so this is all I got to. But there will be more … oh yes, there will be more …