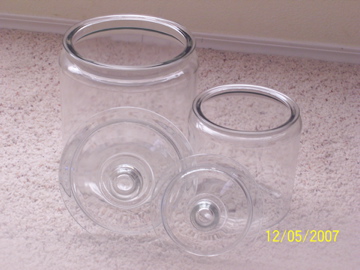 Aren't these candy jars cool?!?  I'm so excited.  Every year around this time, with the new year approaching, I get into Organizer Bunny mode.  Well, I found these glass candy jars on Craigslist a few weeks ago and scored them…for $10 under the asking price.  The seller was a local candy shop who had just piled up too many jars in their stockroom.  Coupla' e-mail exchanges, quick trip to the ATM, then the candy store, and these babies are mine!Okay, there are still two 'Best Parts'!  1.  I got MANY of these jars ~ 8 of the large ones w/6 lids and 10 of the small ones w/4 lids.  Yeah, lots and lots of jars.  2.  They were listed for $50 and I got them all for $40. They are really heavy, good quality and very clean.  Actually, I was kind of disappointed they didn't smell a bit like chocolate or Twizzlers or something :( So anyway, my mind is swimming with ideas for how to use them.Here are some things I'm considering:1. Chipboard storage2. Mike's stamp storage3. "Halfway Houses" for things before I put them away, like photos, smaller embellishments, etc.And that's just the scrapbooking ideas ~ here are more:1. Making gifts by using rub ons to decorate them2. Using them in the kitchen for flour, sugar, etc.3. Vacation money jarThe best things about them is they are big and they are see through. I know from experience that when I can see things, I use them more. Ever since I put all my ribbons in jars, I reach for them all the time. Besides, it looks so pretty and colorful to have all your goodies displayed in glass jars.
Now, it would have been the perfect marriage but it was not to be ~ at the same time I found these jars, I also found a bunch of the Target and Store in Style scrapbooking storage cubes for sale on Craigslist. Again, buncha e-mails and a trip to the ATM but I was never able to meet up with the owner and pick them up. She lives about 50 miles from me and I headed down there one day, but there was a mix up (supposedly) and she wasn't home. I e-mailed a couple more times trying to set something up but she wasn't being very helpful. I mean, if you're going to sell over $100 worth of cubes, wouldn't you be willing to fit the person into your schedule or perhaps meet them in a town halfway between you and the buyer? Well, she wasn't and I didn't want to stalk the poor girl, so I gave up.
The price was fabulous and I can't tell you how much I wanted those darn cubes. I have only part of my desired "wall of cubes" and these would have finished it off so nicely. In my head, I could just picture all my pretty-pretty glass jars filled with scrappy goodness atop my wall of cubes. So, I still search Craigslist all the time for that next crafty bargain.When something I think I really, really want doesn't work out, I believe it didn't work out for a reason. So I will patiently wait for what was meant to be…perhaps a free Expedit shelf will fall out of the sky, or maybe even someone nice from MY town will sell all their cubes! You never know…
Now some questions for you:  Do you Craiglist?  Buy or sell?  And what would YOU do with these candy jars?  Can't wait to hear from you!