Well, the "three day project" that I talked about HERE, ended up taking slightly longer (okay, a month, sheez…) but I got it done. Well, done enough to show you an AFTER photo at least, LOL.
So here is the view of my scrapbook room/home office from the doorway (it's right off the dining room):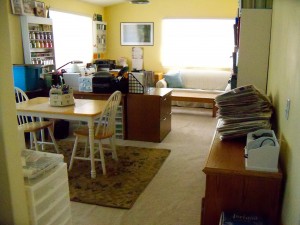 When I see this photo, I'm wondering if – to you – it still seems very cluttered in here :) But believe me, for all the junk you see now, it was WAY worse! This is a huge improvement, fer shizzle.
I'll be doing a series of blog posts with before and after pics of different sections of the room and what I did to organize things. But I wanted to start by showing the entire room that I'm very blessed to have, clutter and all…