I was busy working, etc all day Thursday and Friday. But as of 1900 hrs last night, I'm officially free from my office job (and taking kids back and forth to school) for over 2 weeks!! Yippee Kie Yay and Yee Haw! I slept bunches and am now starting to feel The Urge to Purge and the Need to Organize. Christmas is only 3 days away, so obviously I'll be busy with those things. But come 12/26, I'm ready to rock!
Today I'm sitting at the computer trying to 'organize' my thoughts and, taking Yvette's suggestion, I'm writing things down. I've started "Mom's To Do List for Christmas Vacation 2007". I'm including a box to put little check marks as I accomplish things, so I can see my progress and hopefully that will motivate me to keep going. My list is probably going to end up being unrealistic for the time frame I have, but oh well. At least I'll get SOME things done. I have 2 at-home work assignments due that will take lots of hours, and general house cleaning. I'm hoping to get those out of the way first, and then concentrate on the organizing and some other projects. The challenge will be staying off the darn internet! I have so much fun with this blog, the CKMB, reading other blogs, e-mailing friends, etc. that I could end up here for hours each day…will have to force myself NOT to do that, or maybe just limit it to my 'night owl' hours as a reward for accomplishing great things during the day, LOL.
The other things on my plate are my mom visiting from 12/25 to whenever, and I'm holding a scrapbook crop on Friday 1/4 and Saturday 1/5. That was just decided yesterday, so unfortunately it does affect my ability to accomplish things for this Challenge, since at the end I won't even be here for 2 days :( So I'd better really bust tail between 12/26 and 1/3, and stack up some extra hours to meet my own 12-hour challenge (see below). The good thing about my mom being here is she will help me & is a very talented organizer herself. Is that wrong to put her to work while she's here? (j/k, she actually loves it and ASKS for things to do; LOVE her!).
I'm not only working on my scrap space, but the rest of the house as well. Spring Cleaning kinds of things, like washing all the pillows and bedding, purging my kids' school work, and getting our personal files caught up (they're already in pretty good shape). It's kind of become a tradition to rearrange our living room after the Christmas tree comes down, which is good because every little nook and cranny gets wiped down or vacuumed. If I have time, I'd also like to purge and better organize our Christmas stuff when I put it away. I did it a few years ago, but there are the same things that don't get used each year, so why hold onto them? Honestly, I'm not really into holiday decorating and just do it for the kids, so the stuff we have is already minimal ~ ornaments, stockings, and a few decorations. Although I do now have the new Advent Calendar I put together this year, along with the one I bought from Starbucks (thanks to CKMB Enabling):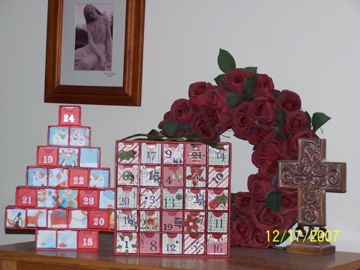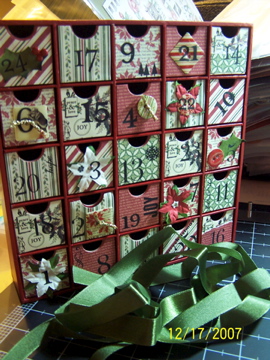 So far today, I've got couch throw pillows in the washing machine, school work into one pile after gathering it from around the house, and a bunch of housecleaning done. Is it just me, or do you get a lot more done around the house when DH isn't home? I don't know why, because he's not the needy sort. Hmmm… So! The other thing, in addition to my checklist, is that I'm going to commit (from 12/26 through 1/6, the end of The Challenge) to spend at least 1 hour per day on organizing my scrap area. That will be….um….I'm no math major…let's see…12 HOURS of scrappy organizational time! More time than I've probably spent on organization over there this entire year. I think I can get a lot done in 12 hours, don't you? Are you setting any goals for yourself? What progress have you made so far? I'd love to hear about it :)