I spent most of the weekend working on my scrapbook room. Ugh! I know . . . AGAIN! I'm NOT considering this part of the whole MAKEOVER thing, just the clean-up to get back to where I left off. If you look back at those last "makeover" photos from 10-15-09, I haven't really made much overall progress since then anyway.
What I did do, however, was perform a major backslide over the holidays. My scrap space became the activity center, the holiday gift-hiding and wrapping hub, and the dumping ground afterward for gifts to be put away, Christmas cards to sort and scrap, school and personal papers, etc. Everything had gotten WAY-HAY-HAY out of hand to the point that I couldn't do ANYTHING on my desk or in my scrap space, much less scrapbook!
While the ONLINE CROP happened this weekend, I spent some time sorting, purging, putting away, and cleaning my space, taking breaks to chat with the Scrap Sisters and keep my enthusiasm going.
It's now back to a decent level so I can scrapbook again (I have until Wednesday at midnight PST to complete some of those crop challenges!). Thought I'd share a few Before and After photos. The Before pix were taken Friday night so they're dark, sorry. The Afters were taken Sunday afternoon.
LEFT SIDE OF DESK – BEFORE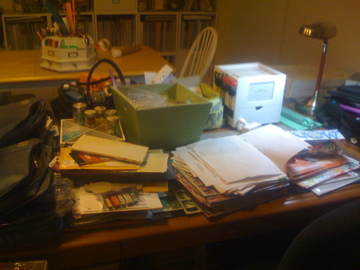 LEFT SIDE OF DESK – AFTER
There's my new Daisy tool caddy by Creative Memories. I moved all my acrylic stamps and inks from 2 Crop in Style flat packs into the tool caddy. What I realized is that … I need another one, LOL. I have my current stash in there, just barely, but my Secret Santa sent me a bunch more stamps for Christmas (they're stacked under that pile of embellies, 5 full sets!). See all those punches and tools behind the tool caddy? I want to get one for those, too. I don't like how they get dusty sitting out on my desk, even when they're in heavy use … which admittedly, they haven't been lately. The Cropper Hopper vertical file is for my newest acquisitions that I hope to scrap with soon. My Inspiration File, if you will. The rest is Secret Santa stuff that I left out on purpose. No, really! One of the crop challenges is to create a layout using products you received from Secret Santas. See, I wasn't lying.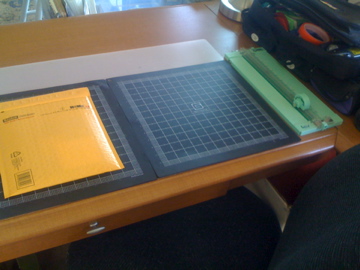 Yes! I can see my Basic Grey magnetic mats again! The envelope has some CTMH "My Acrylix" (empty) envelopes that I offered to RAK on the Scrap Sisters Studio message board; as it happens, my Scrap Pal was the first to speak up so they're being mailed to her … along with a little gift that I forgot to include in her Christmas gift mailing.
RIGHT SIDE OF DESK – BEFORE
Oh lookie! Some books that are now neatly filed on my bookshelf, which I also reorganized this weekend. My Green Tangerines bag and stuff I bought there, Christmas card leftovers and stamps, etc.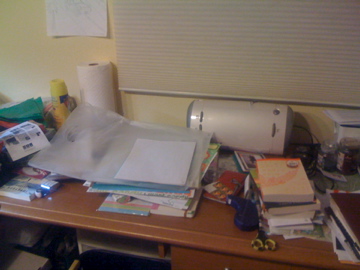 RIGHT SIDE OF DESK – AFTER
All my most-used tools, stereo, RAK bag, and carousel I use to store Cricut stuff.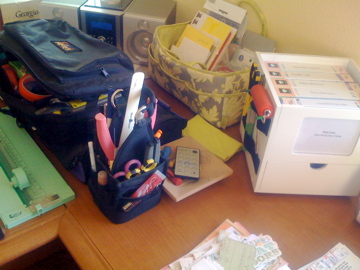 Cricut, Epson Picturemate printer, and I moved my little lamp over here. The paper, embellies, and envelopes are hand-me-downs from my mom (she's the one who always gives me free scrap stuff she doesn't want … I know, I'd be jealous if I were you, too). Anyway, I found the box they were in at the end of the day and that's as far as they got :( Out of the box and onto my desk … for now.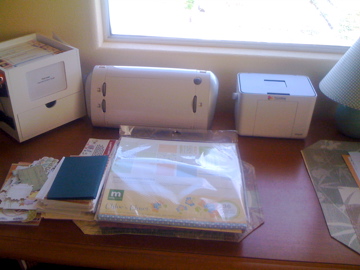 COUCH/COFFEE TABLE – BEFORE
Yep, there's really a couch and table under all that disgusting mess, I swear! CM photo storage boxes (like my fancy labels made out of sticky notes? i made new ones finally), an old printer I need to get rid of, and my basket of alphas. Also, 2 bins of past MEMORY WORKS kits that I need to either use or separate out and put away.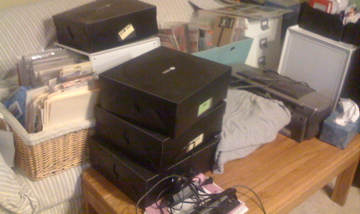 COUCH/COFFEE TABLE – AFTER
The kits are still there, and I stashed some things under the table, but at least I can see part of the couch and all of the table again, right? And there's my new CROP BAGS. They make me happy :)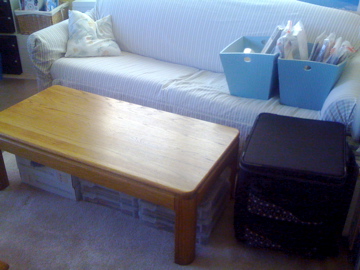 So, there's what I did this weekend. How about you? Anything scrappy or organize-y? Or did you just watch football? Whatever you did, hope it was a great one.