This is on Craigslist for only $20:
"Fabulous shelf to store your rubber stamps or ???? 48″ high 29″ wide and 5″ deep with 10 adjustable shelves. Painted Red. $20.00 (you can't even buy the lumber for that)"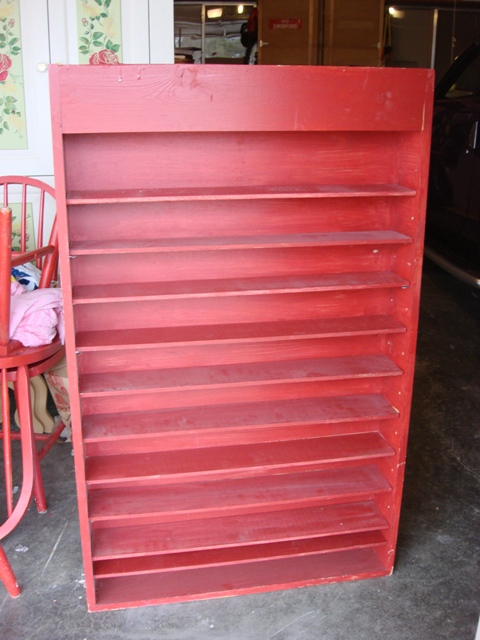 Do I need this?? Should I get it??
The red is super cute but it wouldn't fit with my scrap room colors. I could easily paint it white or some great color. I don't have a ton of rubber stamps, as I mostly use acrylic, but do I still need it anyway??? It's so stinkin' cute and I love that the shelves are adjustable. I have plenty of free wall space to hang it in my scrap room. But I already have the MM embellishment shelf and it's full of Stickles, MM embellishment jars of felt flowers, etc., and MM paints. Here is a picture of when I first got it; it's now more "fully loaded." I put the dowel rod in the bottom section and have ribbons spools there, I have more Stickles, etc.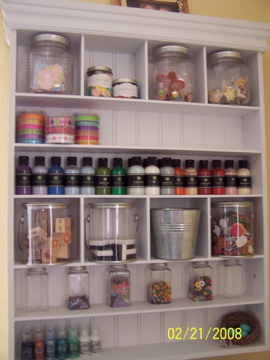 See, I don't really need that cute red shelf, do I? What else could I put on it? I actually love the red color and it would go with the red accents in my kitchen, dining room, and living room. I wonder if I can think of some way to utilize it in one of those rooms?
Ack! I just hate to pass up such a good deal on an adorable shelf. I e-mailed to poster to get the photo, then wrote back to say I'm interested. Will let you know when I hear anything! {{fingers crossed}}