It's late Saturday night and I wanted to give a little update on my LOAD experience so far. It's technically still Day 2 (02-02-13) but being on the West Coast, I receive the prompt for the next day at 9pm the night before (does that make sense?). Which is really nice because I can start working on the layout before I go to bed or at least start thinking about it.
Tangent: Okay, is this just me or are there others of you Scrapbook Obsessed who do this too? When I go to bed, my mind is usually still going a mile a minute – "Pay the electric bill tomorrow, buy dog food, don't forget to call the water softener guy, when is that report due?, blah blah blah." So oftentimes to calm myself down and relax so I can sleep, I'll start thinking about scrapbooking – a layout I want to do, a new way to organize my Project Life cards, what I want to buy first from the new CHA stuff, what am I going to pack for the retreat? – that kind of thing. Works every time, baby! A few minutes later . . . ZZZZZZ Please tell me you do that too!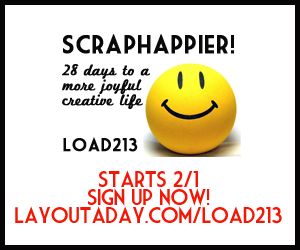 So back to LOAD . . . I now have 3 prompts . . . 2 layouts almost done . . . and 1 prompt I'm still kind of stumped by (if you're a LOAD-ster, I'm sure you know which one I'm talking about, lol). I was waiting to see if the prompts would fit the overall concept I had for this class and so far they DO match so I'm going with it: I'll be doing layouts for a Book of Me. Have you heard of these?
It's basically where you – the one who always scrapbooks about everyone else in your life – actually scrapbook about yourself. Novel idea, eh? Because your family and your kids want to know about you too, silly! What makes you tick? What is your daily life like? How about that childhood? Hopes and dreams? Favorite things? So that's what I'll be scrapping with my LOAD layouts. If I get all 28 layouts done, I could have a full BOM album done at the end of the month – wouldn't that be Rock Star-ish of me? Cue screaming fans.
And I did – thanks to some very helpful comments here and in the LOAD forum, including an answer straight from Lain herself – decide that it's fine if I blog about LOAD, the prompts, and the layouts I make from them. And I have to say . . . the Ladies of LOAD are a pleasure to be around. Everyone in the forum is kind, helpful, excited, and passionate about scrapbooking. I couldn't ask for a better group to be a part of.
So that's where I'm at with LOAD. I can't promise when I'll post prompts and layouts – maybe a weekly round-up? Sometimes fitting in blogging is really hard, and I want to make getting layouts done this month the priority. But I'll do my best!