This challenge was hosted by one of the MB's favorite members, Sandy/tx-nana-scraps (who many of you know from CKMB and she's also a big part of AMR):
~~~~~~~~~~~~~~~~~~~~~~~~~~~~~~~~~~~~
1) Hopefully you have used two different colors of acrylic paint on your cardstock, but what ever you have will be fine. [She let us know to do this ahead of time].
2) You will need to use at least three (3) pictures.
3) Use three (3) embellies of your choice.
4) Journaling: use four (4) journaling strips.
This is an option, not necessary, but it might be something to try if you haven't done it before: write on at least one of your pictures using a pen or computer. The writing must be visible, not hidden. You can put a date, event, person's name, a cute saying, etc. If you do this option, your name will go in the hat two times.
Post your LO to this thread by noon (eastern) tomorrow. I will randomly pick a winner and post the name on a new post titled "4pm challenge winner."
This is my LO and I had fun making it, and I hope you do too. This is my DS in 1970. I used my MM Tag Maker to make one of my embellies, and I put a piece of the pp inside.
"UNCLE JIM" layout by Sandy (just realized I don't know her last name, LOL!)
~~~~~~~~~~~~~~~~~~~~~~~~~~~
I've used acrylic paint before but mainly for stamping, so that's why I wanted to try this one. The night before, I painted a piece of dove gray cardstock with cranberry paint and silver glaze (Sandy said "anything goes" as far as the type of paint, even watercolor). As you can see, when it dried the paper curled up…now that was fun to scrap on! But I think it will flatten after some time in my album if I lay it flat for a week or so. Anyway, here's my attempt: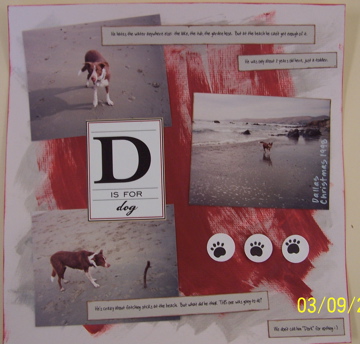 I ended up missing the contest deadline. I finished the last 2 challenges after dark and wanted to wait to take pictures of them til daylight. I went to bed around 2am, got up at "8:30" so I could post them by 9am my time (the deadline was 12pm EST). Then realized midstream that I'd forgotten about Daylight Savings lastnight!!! Oh well, the fun part for me was trying to meet the challenges and I'm so glad I did it! Thanks for reading, if you're still here :)