Found this cute survey while I was blurfing (aka blog surfing), and thought I would fill it out, maybe use it on an All About Me layout. I copied the survey from LISA WARREN, who got it from CASSIE.
ABC's of me
A – Age: Wouldn't you like to know?
B – Bed size: A Select Comfort King
C – Chore you hate: Putting anything away … dishes, laundry, scrap supplies
D – Dog's name: Landry Timber
E – Essential "start your day" item: COFFEE. Duh.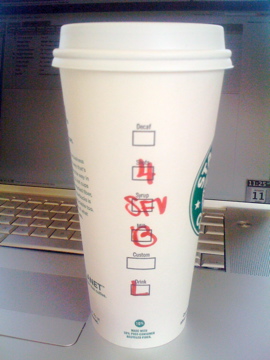 F – Favorite color: Muted teal … the color of Pacific Ocean water … just to give you a visual, since there technically is no Crayola name for my color
G – Gold or Silver: Silver. Other than my wedding/engagement rings, I don't wear gold anymore.
H – Height: 5'7″
I – Instruments you play(ed): Zero. Zip. Zilch.
J – Job title: Medical Transcriptionist and Scrapbook Consultant to the Stars!
K – Kid(s): Yep, I've got me some.
M – Mum's name: Um, I call her "Mom." Again … DUH.
N – Nicknames: Recka.
O – Overnight hospital stay other than childbirth: Gallbladder-ectomy
P – Pet Peeve: Um, you might want to sit down and get comfortable for this. I have a list …
Q – Quote from a movie: "One question: do you need… someone, or do you need me?… Forget it, I don't really care." Lloyd Dobler in SAY ANYTHING
R – Right- or left-handed: Right, because Left is Wrong (had to throw that in there, cuz DH is a Lefty)
S – Siblings: Yes, but it doesn't matter 'cuz my mom loves ME best.
T – Time you wake up: Approximately 3 minutes before I have to be somewhere. Give or take.
U- Underwear: That is SO nunya, I can't even believe you asked.
V – Vegetable you dislike: Hominy. Only kidding. I just like to say that word. "Hominy, hominy, hominy." (Is that even a vegetable?)
W – Ways you drink your coffee: In my pajamas, at crops, in the car, alone or with people, on airplanes, at sporting events, while walking my dog, …
X-rays you've had: Teeth, gall bladder
Y – Yummy food you make: Enchilada casserole, mushroom chicken, Tollhouse cookies, teeter totter casserole, and tacos. Oh! And are martinis food? Cuz if so, then I make yummy of those, too.
Z – Zoo favorite : Flamingos
Now it's your turn. Post the ABC of YOU in comments, or link us to your blog. C'mon, you know you want to!