HOLLAH! It's here, it's here, it's HERE!!!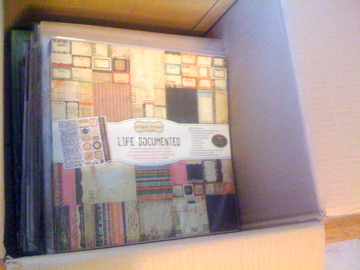 As you probably know by now (LOL!), I'm a consultant for MEMORY WORKS, and SIMPLE STORIES is their hot new product (the very 1st product of their own!). It's been very popular with scrappers doing PROJECT 365, or those who just want to get some fast scrapping done … while keeping it cute and stylish :) I have an online friend who wants to use this kit to get a quick scrapbook done for her 2009 family album, as she was busy with kids and craziness, and didn't get many of her photos scrapped.
Anyway, I placed this order ~ which was #1 of 2 ~ the second that Simple Stories products went live on my Memory Works website last Friday (1-15-10). Memory Works said to expect a longer shipping time than usual because this was so popular and they have a small staff. Usually my orders ship to me within 1 business day; they said to allow 4-7 business days for Simple Stories, and that was accurate since it shipped on Day 5 and arrived here on Day 7.
As you can see, I ordered my own stuff and a bunch of extras to sell at my next crop and to friends. (I'm already holding a few things, wink). There's my gorgeous Kiwi green album by We R Memory Keepers, the Simple Stories kits, coordinating cardstock packs, and 2 kinds of page protector packs.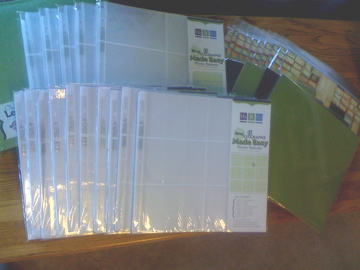 My 2nd order is due here Monday … more of the same. I decided to get extras with the profits I made from the first round of selling (it sold VERY well!). Like they say, a good businesswoman reinvests her profits in her business :) I heard … and it may just be a rumor … that this could be the only run of this version of "Life Documented" kits. I mean, Memory Works will probably issue future Simple Stories kits along these same lines that coordinate and everything, but I like THIS particular kit so much, I wanted to get lots of extras while I could. You know, once they're gone, they're gone, kind of a thang.
I'll be playing with Simple Stories all weekend, getting my Project 365 all caught up (Weeks 1 through 3). I'll post close-ups of the kit contents themselves, probably on Monday because I have a very busy weekend.
Did you order Simple Stories? Didja get it yet? What do you think?