Here are some pics from recent trips to Michaels …
This is the new "Traveler" line by Me and My Big Ideas (MAMBI). I love the color combo of ocean-y blues and greens, peaches/yellows/oranges, and black/white. It has a vintage feel but modern at the same time, which made me think of my friend ABBY and the Seattle album she's working on … Wonder if she'll like this line?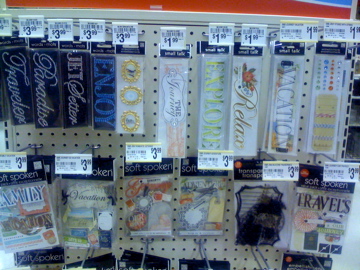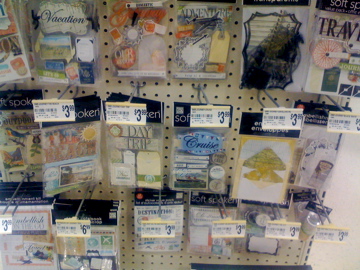 I think I've shown you the Recollections and Prima on the left side of this photo, but the gorgeous butterflies and pretty flower packs on the right are new ….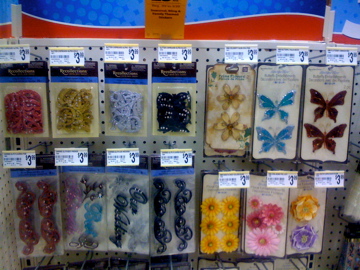 All kinda' bling bling … Please ignore any SALE signs, as these sales are no longer going.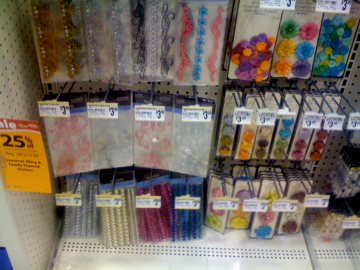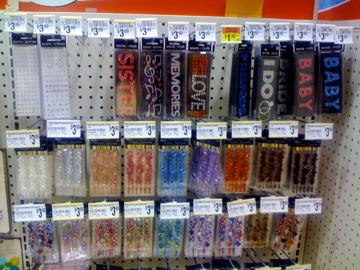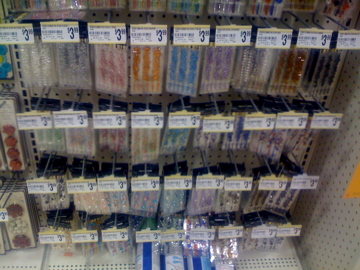 This was a whole endcap of new Making Memories embellishments called "Design Shop" which reminded me so much of Jolee's, I had to wonder if they're owned and/or made by the same company.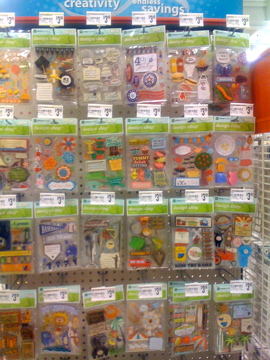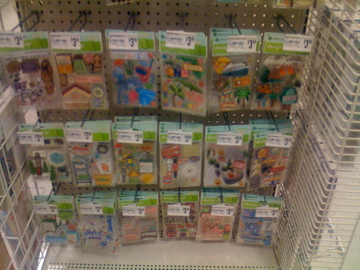 Some cute things here … these were 2 of my favorites. It's hard to tell, but many of them are 3-D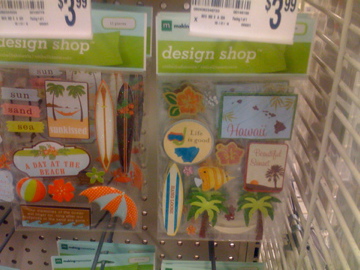 Here are some recent purchases of mine from Michaels. Aren't the Recollections trims cute? The red hearts are felt, then the 2 ribbons, and the turquoise dingle balls … so fun! The Super Mom stuff from MAMBI is chipboard and really pretty shades of pink and green. That color combo always makes me happy :) The school stickers by MAMBI on the right are epoxy, and I love the circle shape where you can cluster 3 together, or use 1 on a card for your favorite teacher. I bought them to use on yearbook pages and teacher "thank you" cards.
The Making Memories "Passport" metal clips on the bottom are from Target. I just thought they were purdy.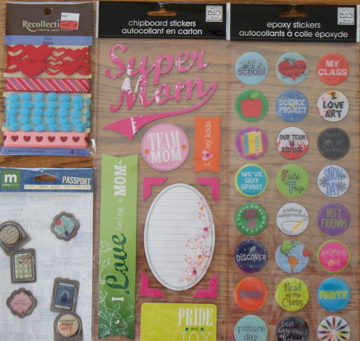 That's it for Mike's.
Now you're asking, "What in the heck do throw pillows have to do with scrapbooking?" Well, I found these at Costco for a great price and they're for the couch in my scrapbook room. It doesn't show up great in the photo, but the color is really pretty … it's like a lighter or muted robin's egg blue. It'll go nicely with all the other blues and greens, pale yellow, and white in my space. Another great thing is that they are durable – made from a thick, linen-textured fabric that will hold up well to my kids piling on them and many years of me lying back on them to read my scrapbook magazines and idea books. So glad I found these …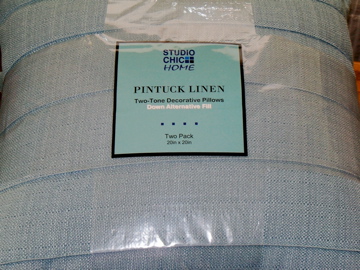 Lastly, here are some recent finds from TUESDAY MORNING …
These are all from Making Memories, the little flower jars and a metal tin of flowers. The jars are plastic and I'll reuse them when I'm done for storage on my stamp shelf. I love that you get a length of green and white ribbon, too. The tin is deceiving so be careful if you buy them. I haven't opened the tin yet, but I noticed in the store when I was deciding whether to buy them that – no – the tin is not FILLED with flowers. There is one layer of them pressed against the little window, then it's all padding underneath. So be aware that you're not getting very many flowers in this package. To me, it was worth it because I'm going to re-use the tin and because of the discounted price.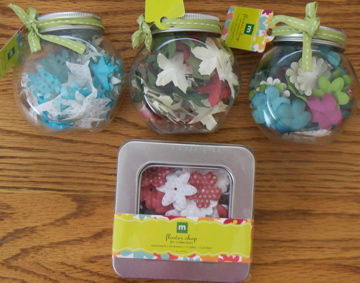 As you can see here, the jars and the tin cost $1.99 each.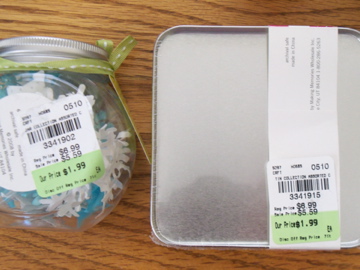 My best find was this set of paper ribbons by K&Co.!! You get 4 packages in a variety of colors and styles for only $3.99. I believe these retail for $3.99 PER PACK, so to get 4 packs for that price is amazing. They are so pretty in person, especially the one on the far right with the distressed colors. But they're all very nice.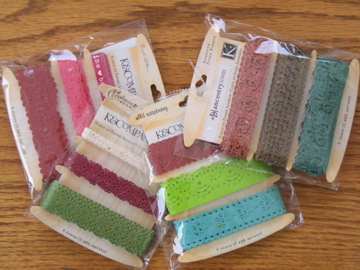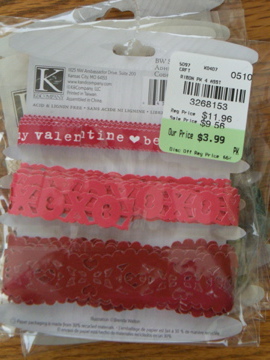 So those are my latest shopping adventures! Did you see anything you like?