In THIS post, I showed you the new Cropper Hopper storage I got. I decided to use the binder storage to get my cardmaking supplies in one place and out of the Iris drawers I had them in. The problem with the drawers was mainly that the blank envelopes and cards would get jammed when I opened and closed the drawers. Also, nothing stacked in there very nicely and it shifted around, not staying very organized. So here is a photo of what I started with – 2 Iris drawers of cards, envelopes, rub-on books, stamped images, etc.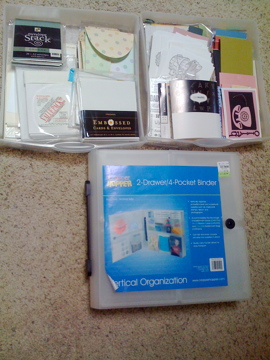 Actually, I realized when I was all done (or thought I was!), that there was another Iris drawer so it's not pictured here but the finished product has THREE drawers worth of stuff, yay!
Here is how one side ended up, with most of the blank cards and envelopes in the 4 pockets. I like how they have closing tabs so they don't get all yucky or dusty.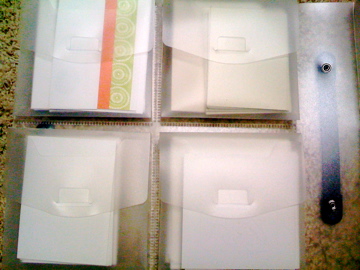 Here is how the entire opened binder looked when I was done.

Here is just the right side, with larger cards/envelopes, card sentiment stickers, etc. To make it work for my stuff, I had to cut out some of the dividers. The top section started out with 12 small sections and I cut out 6 of them to create a space large enough for my items. In the bottom section, I cut out the 2 vertical dividers (it originally had 3 sections) to accommodate my larger cards and envies. I just snipped them out with scissors right along the crease, careful to not make holes.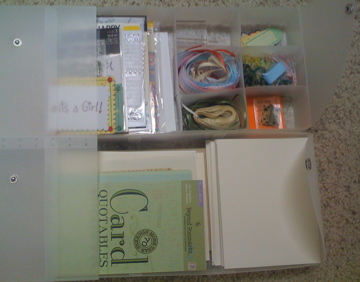 Here's the trash pile when I was done, from taking everything out of it's cellophane packages, ribbon off spools, etc. To me, that is room SAVED, baby!
I hope you enjoyed my card making stash makeover. Have you done something similar?
And stayed tuned...tomorrow will be my Mike's stamps storage revamp!