I'm so happy that Michaels is turning over their stock much more quickly than they used to. Just about every time I go into Mike's, there is something new. Here are some photos of things that were new ~ to me at least. These photos were taken on my last few visits to Mike's.
Making Memories alpha stickers
They had several colors. The font is cute and I love that there's an little crystal on each letter.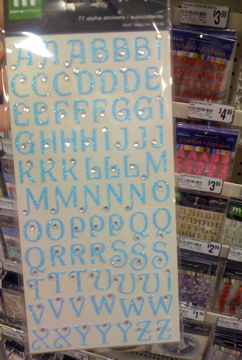 .
.
.
A bunch of new bling…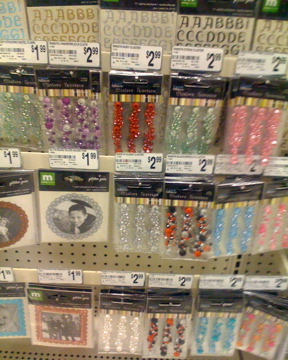 .
.
.
Journaling tablet stickers by Die Cuts with a View. There were 5 different themes, like Travel, Love, and Family.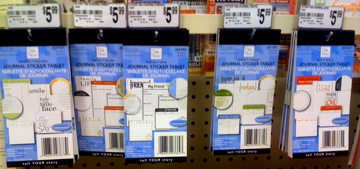 .
.
.
Your eyes are not deceiving you…Those are Thickers @ Mike's!! The choices are kind of slim so I hope they offer more style and colors in the future. Check out those red, yellow, and blue letter stickers. I swear those have been at Mike's since 1996. C'mon, Mike's, just toss them. If they haven't sold in 13 years, they're not going to sell now, LOL!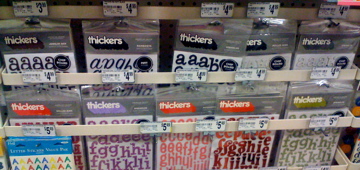 .
.
.
I'm so bummed this photo didn't come out! I wanted to show you all these cute little epoxy stickers by Recollections…arrows, flowers, and my favorite, rainclouds and raindrops.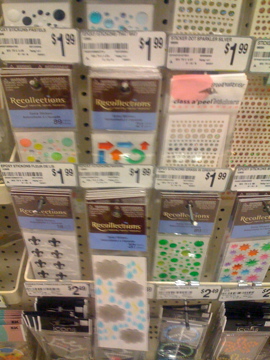 .
.
.
Blingetty bling bling!…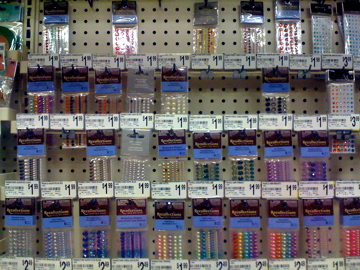 .
.
.
I love this K&Co. album from the Cut 'n Paste line. It's pricey but maybe someday I can get it with a 40% or 50% off coupon. Yeah, yeah… a 50% coupon! When's the next holiday?? Oh yeah, Labor Day is right around the corner…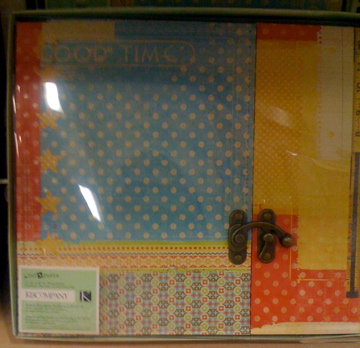 .
.
.
An overview of a lot of their new albums. The solid colored Recollections albums are on the top row. The ones below are so pretty/cool/cute; there are a couple albums there I would love to have.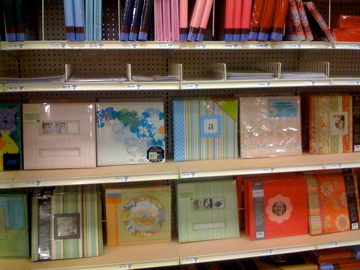 .
.
.
My Minds Eye paper stack, called "Complete Boy"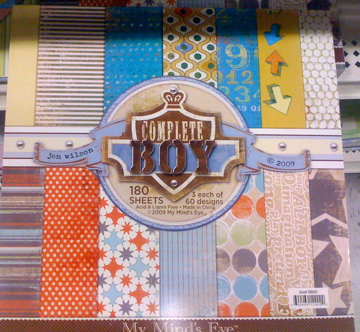 .
.
.
My Minds Eye paper stack, called "Totally Girl"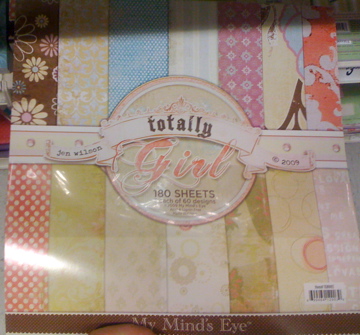 .
.
.
Cat's Eye chalk inks ~ my ink of choice ~ and lots of Staz On inkpads.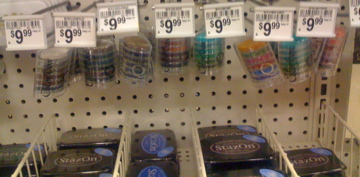 .
.
.
Brilliance "Dew Drops" ink pads and Tim Holtz Distress Inks in 6 colors! We're big time now!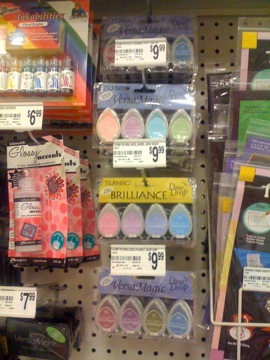 .
.
.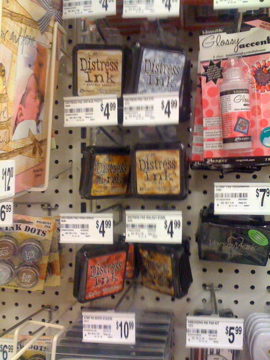 Cute-alicious cupcake stamps…
.
.
.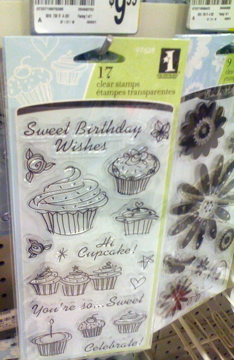 .
.
.
So, here is what I ended up with on trip #1: Some black Thickers. They are the puffy ones, black cursive font, called Rainboots. Also, a pack of American Crafts Slick Writers in black. I really only wanted the fine tip but they didn't sell them separately in fine tip, only bold. Oh well, won't hurt to have extra Slick Writers anyway. Used a 40% coupon on the pens.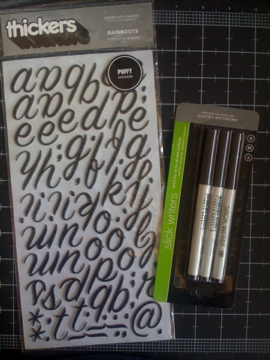 .
.
.
On trip #2, I got two of the Journal Stickers Tablets ~ Travel and Family, and some Recollections pearl bling strips in green and teal. Used a 40% coupon on one of the sticker books.

.
.
.
Here's one sheet of each of the Journal Sticker Tablets, just so you can see how cute they are. My Slick Writers will be perfect!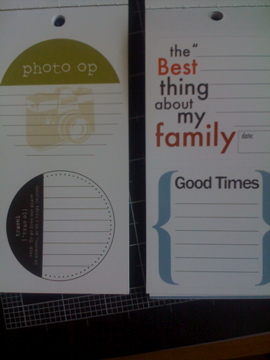 .
.
.
I'm so impressed with Michaels lately. With the demise of so many LSS's, maybe we're giving them enough scrappy business to keep that part of the store going strong. I sure hope so….Mike's is my main source for Scrap Crack….erm, I mean….scrap supplies. What new things have you seen or purchased at Mike's lately?