I've had my MM Embellishment Shelf for about…well, let's just say I got it with a 50% off coupon from Michaels so it must've been since a recent holiday. I finally got it hung ~ all by myself and I even used a level ~ DH would be so proud! Here it is in progress. I'm still working on it, while I organize my entire scrap space. I love to see all my little pretties lined up, so cheerful and colorful. Stickles make me smile :)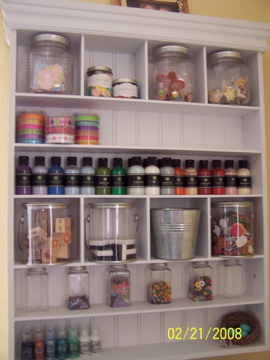 Since I took this picture the other day, I decided to add one of the ribbon spool dowels. Yikes, I had put both of them in my bin for Scrapbook Garage Sale and was going to get rid of them. But I had all that cute Target ribbon in the bright Spring/Summer colors so it has been installed. I'll post a pic when I'm all done too.
I actually turned off the computer FOR AN ENTIRE DAY yesterday. Yeah, I know, I didn't think I could do it either. But it was amazing how much stuff I got done when I wasn't saying to myself, "Oh, just one more post on AMR MB….Wait, I want to check my blog stats…Darnit, I need to e-mail so-and-so about whatevah-whatevah…Shoot, one more look at CKMB won't kill me… And before I know it, the entire morning is gone and I still have tons to do, nevermind not getting to those "extra" things that would be nice to get done.
Here is my list of accomplishments from yesterday:
1. Moved all of my scrapbooks to the empty shelf in the living room that has been available for about a month. I wanted them out of my scrap area so people will actually look at them once in a while, LOL.
2. Moved layouts around and got things in chronological order. Put some "homeless" layouts into scrapbooks…you know, the ones you complete then keep in a stack somewhere? I had nowhere near the job of ALI EDWARDS, but it still took some good ol', sit down on the floor and spread it all out kinda' time…
3. Lots of housework ~ yuck! But a good feeling of accomplishment…
4. Continued my scrap space organizing. It's a never ending project, I swear. But I can see my two beautiful Basic Grey Magnetic Mats! So I can actually get some scrapping done now.
5. Found some childhood pics of my hubby, noticed how much one of our children resembles him, and left him a little love note with the pictures for him to see before he left for work this morning.
Believe it or not, I got even more done but you're probably dozing off by now, so I'll stop. I'm sad I missed a whole day of message board and blog haps, and I didn't blog, but feel really good that I got so much done around here. Maybe I'll have more Turn Off the Computer Mondays!
Have you ever been forced to stay away from the computer for a day, just to get something done?