YES! I got to go to CHA* for the first time!!! And it was absolutely amazing! Scrapbook Bucket List item checked off! I could only go for one day (Saturday) but I'm so grateful even for that. It's like Rome or Disneyland – there is NO possible way to see and do everything you want to in one day. So I ran around like a scrappy chicken with my head cut off and crammed as much as I could into 7 hours.
*Are you wondering what the hay CHA is? Check THIS out.
There was so much greatness packed into those 7 hours that I can't put it all in one blog post. I'll do a series over the next week or two and that way I can be more detailed (maybe TOO detailed but humor me, LOL!) Simple Stories and Basic Grey might take 2 posts each. We'll see how it goes. But I want to share the experience with you of being a total geeky newb in the Emerald City. I must say, Oz was extremely welcoming :) And no flying monkeys. BONUS!
Pinch me. I still kind of can't believe it. OUCH! Jeez, I didn't mean ACTUALLY pinch me. It was a figure of speech. Sheesh. That's okay, it didn't hurt that much. Between CHA yesterday and the Golden Globes and The Bachelor tonight, I'm in heaven anyway. I still love you <3
For an idea of what's to come, below are some of the booths I went to and people I met.
I got a tour of these booths, met some wonderful people, and got you some good intel:
BASIC GREY – Talked to one of the owners, Rachel Brenchley, and briefly met Kelly Purkey
SIMPLE STORIES – Met the owners Kevin and Amber Crowell, and Jodi, Sue, and Layle Koncar
ECHO PARK / CARTA BELLA – Met Andrea Smith
WEBSTER'S PAGES – Met Allison Kreft and Shimelle
PROJECT LIFE – Met Becky Higgins
CHICKANIDDY CRAFTS – Met Heidi Sonboul's husband
MAMBI (Me and My Big Ideas) – Met Shelby Strichard
These are booths that I quickly visited and got photos of:
BELLA BLVD
BAZZILL
WRMK
AMERICAN CRAFTS
KAISERCRAFT
COPICS
CHIC TAGS
Who I saw from afar but didn't talk to, darn it:
Noell Hyman from PAPERCLIPPING.COM
AMY TANGERINE from American Crafts
TIM HOLTZ from . . . Tim Holtz
HEIDI SONBOUL from Chickaniddy Crafts
ELISE BLAHA CRIPE from enJOY It.com
As you can see, I'm a Paper Girl. If you're looking for inks and stamps and tools, I'm not your gal. I mean, all that stuff is awesome but I had to prioritize so I went for my first love: PAPER!!! I'm a confessed PAPER SNIFFER from way back, remember? I've always been open with you about that. Don't hate.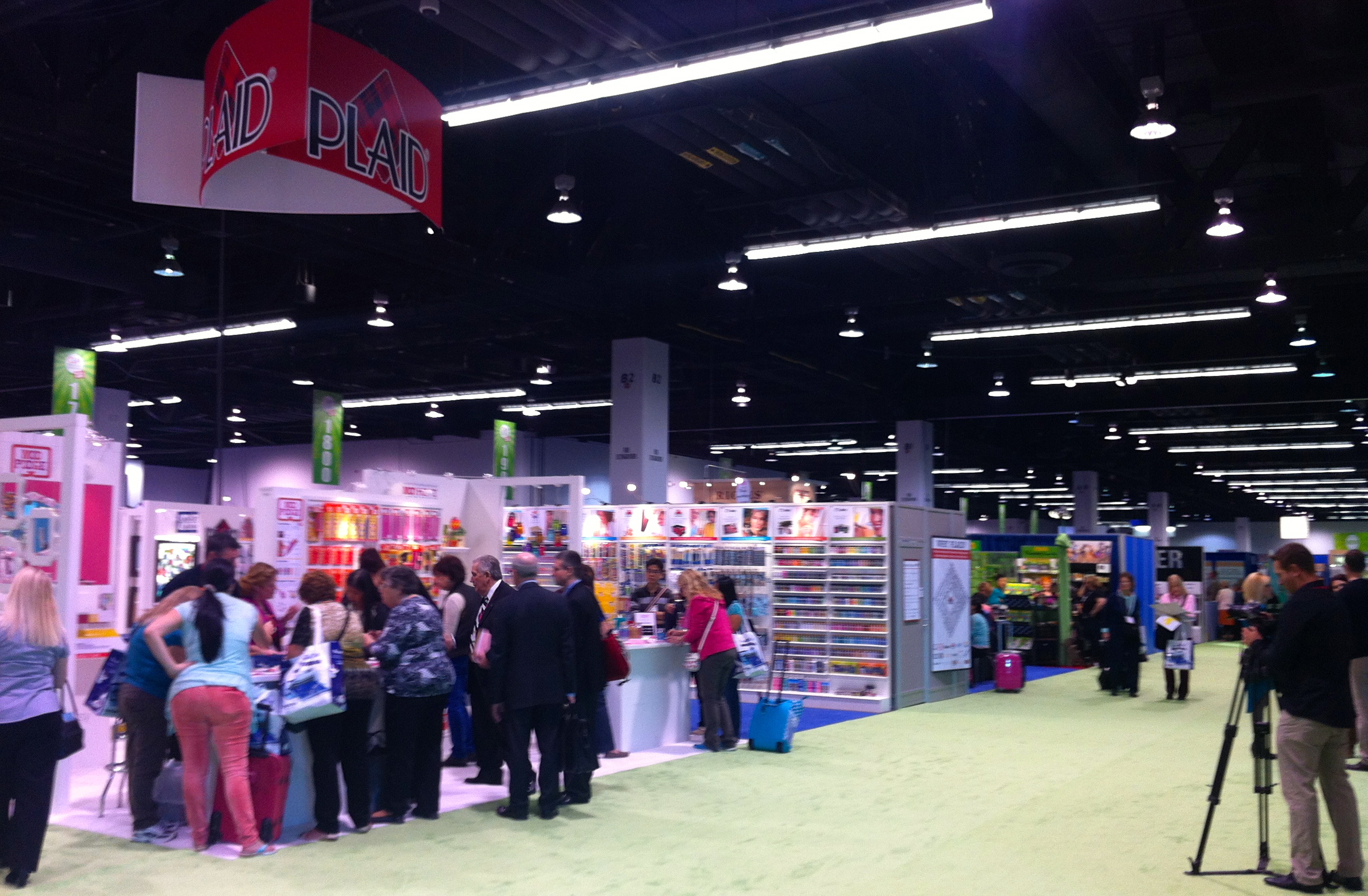 I also got to meet Nancy Nalley from SCRAPBOOK UPDATE and we had a quick fun convo at the end of the day. I hope I remembered to mention every person and booth I visited. If not, I'll include them later, swear!
Overall, I will say that my photos will not be the best you'll see out there (camera problems so most are iPhone photos). I didn't take a TON of project photos because I know each manufacturer posts those on their blog, etc. My focus will be on telling you the story of the day, how amazing and fun it was to be there, the conversations I had with some of my favorite companies, what I'll do differently next time, and hopefully some insider information that you won't hear anywhere else. The posts will be LONG. I'm verbose. Deal with it.
I did offer those I interviewed the chance to do a run-through of our exchange before I post it. I don't have the greatest memory and I'd feel HORRIBLE if I misquoted someone. I also don't want to share any details they'd rather keep under wraps for now, or anything too personal. They are businesses, just real people making a living, and I totally respect that. But if there's a delay in posting anything, that'll be why – just wanted you to know ☺
So please come back to read more about my adventures at CHA 2014. If you want to make sure and not miss a post, you can sign up for updates in the top right corner. That way, you get an e-mail every time I post.
In the meantime, if you're Jonesing for CHA product and project photos, I encourage you to check out all the vendor blog links in my Blogroll on the lower right. If you go to their blogs, you can usually find a link to their Pinterest, Instagram, and Facebook where they're sharing photos from CHA and/or products debuting at CHA. Also, in my post above, anything that's bolded is a link to their blog or website.
Another way to see amazing pics from the floor of CHA is check out Melissa Stinson/Scrappy Jedi's FLICKR FEED. She has a nice camera and her CHA photos are wicked good. I was hoping to meet Melissa @ CHA but never saw her, dangit! I've followed her blog for years and am a big fan.
Sorry no pretty pictures this time. I'm still downloading and editing them – I took almost 500 total. In 7 hours. Yikes. Excessive much?
Hope to see you soon for more CHA dish!