Just letting you know about a couple of fun things that Layout a Day has going on right now. One is free and the other you can save $70 if you sign up before 09-02-15 :)
Free August Scrapinar
First of all, the free monthly scrapinar is called "Zentangle for Beginners" and it's on 08-26-15 at 10 AM Pacific/1 PM Eastern.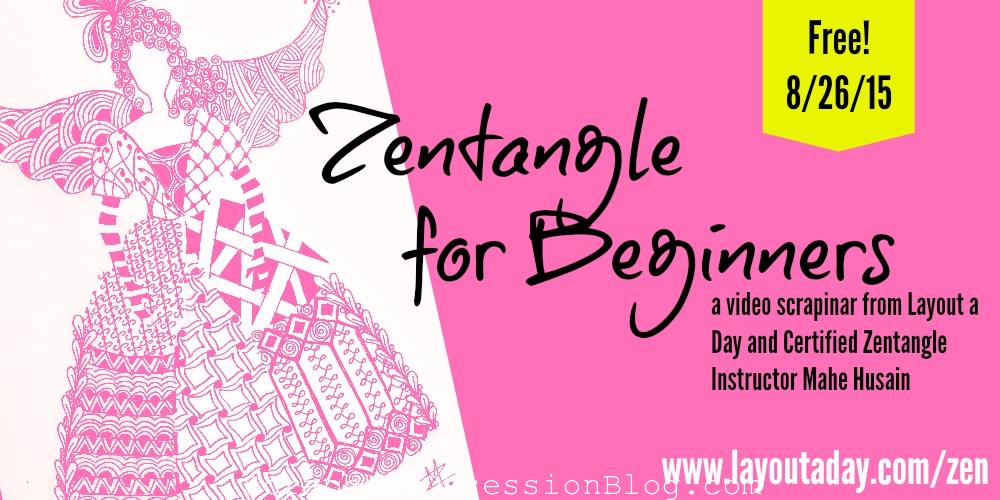 I keep hearing about Zentangle but have really no idea what it is, LOL. Do you? I'll be checking out this scrapinar so I can finally learn about it. You can sign up for free (or just get more details) HERE.
Sign-Ups for "True Scrap Plannerlove"
Calling all planners! Whether you're new to the planner craze or looking for some new ideas to spruce up your planner, True Scrap Plannerlove is for you.

Lain Ehmann of True Scrap has pulled together 6 leaders from the planning community to teach you in classes like Planner 101, Planner as Memory Keeper, Planning on the Go and more!
True Scrap Plannerlove is a 1-day, online, LIVE event on Saturday, 09-19-15. All 6 classes will come to YOU via the magic of the Internet in a state-of-the-art web room. You'll watch the class demonstrations, chat with the instructors and other students, and leave with more planner ideas than you can shake a stick at—all without leaving your house.
You'll learn from planner experts such as Vienna Ortiz, Florence Antonette, Judy Lam, Rachel Park, Cara Vincens, and Connie Hanks.
Are you looking for something new to do with the papercrafting supplies you already have on-hand? Pull out your planner (haha!) and mark down September 19th.
What's even better is the low, low Early Bird price is available RIGHT NOW. For a limited time, you can add yourself to the Early Bird list and get all 6 classes for only $29. That's $70 off the regular price of $99! But it expires September 2nd, so register for your discount HERE.
Tip: If you're wondering about the quality of Lain's events or want to read some reviews, just do a search in the upper right corner of my blog on True Scrap and lots of entries will come up. Hope that's helpful!