The regular scrapping aisle at my Target pretty much bites. They had Thanksgiving things on Clearance but it was so overpriced and not cute to start with, I wasn't even tempted. Nothing else was on sale that I could see.
HOWEVAH!! On an endcap with a hugamic $14.99 sign were the following new items:
Lots of cute letter stickers…would be nice to have so many in one set so as not to run out of E's and A's long before the rest of the alpha. And the embellie set looked nice…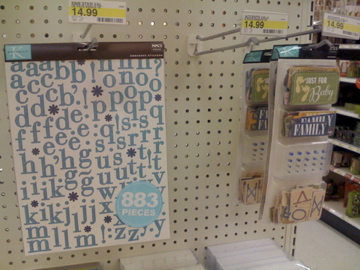 12×12 and 8×8 albums, and paper packs…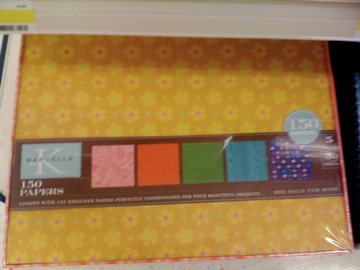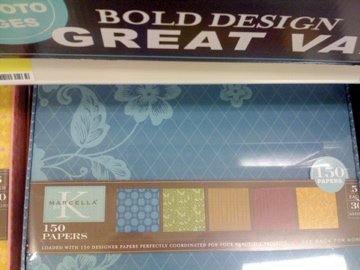 Cute acrylic stamp sets….I LOVE the set on the top with the birds, butterflies, and flourishes. I'm on Stamp Probation so I didn't get them. But if they go on Clearance someday, I can probably find a way to justify buying them. There were only a few sets…did they not stock many, or have they already been popular?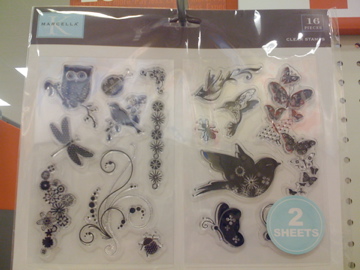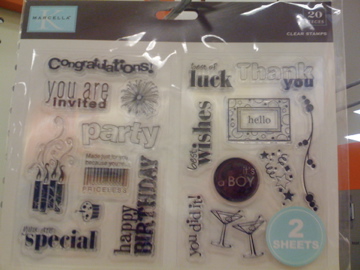 Other than the 12×12 albums, I don't find $14.99 to be any kind of screaming deal on these items. Such is life in today's scrap industry I guess. But I miss those days when bargains were always to be had on scrapbook stuff at Target…
On another end cap, there were several of the KI Memories scrapbooking tins on Clearance, marked down to $17.48. I think originally they were $29.99, so what a great deal on Clearance.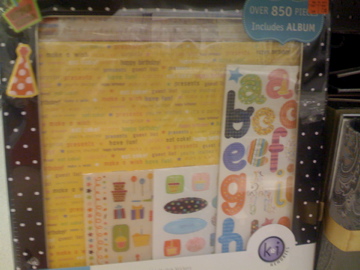 I use gingerbread jars like these in my scrap area to organize embellies, and people often ask where I got mine. Well, I found them on Craigslist; they were from a local candy store. Now anyone can get them…at Target! The price…yikes. I think I paid $30-40 for a whole mess of them.
When I see things like this bed/bath/kitchen collection, I finally get what those pro scrappers mean in the magazines when they tell you that your scrapbooking can be inspired by other products. These color combos and the style of these items really caught my attention and made me want to start whipping out Spring pages using these colors for inspiration.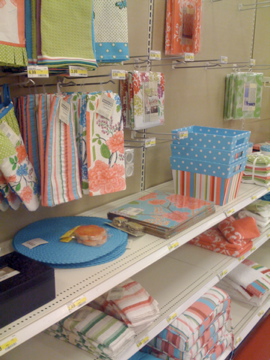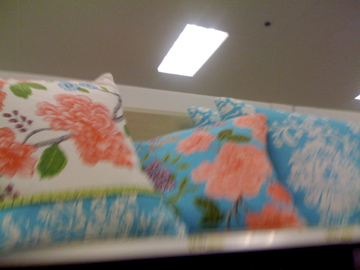 And if I were rich like Oprah, I would SO buy that whole set and redo my bedroom and bathroom. Oh, and I did get the new Memory Makers at Target….mighty thin issue. So, have you bought anything scrappy at Target lately? Tell us about it…