I am NOT even kidding you! I know, you wanna' Elaine-from-Seinfeld me, right? You wanna' push me really hard and say, "GET. OUT!" But I am SO serial.
I of course first heard about this from The Peas. I think they were a wee bit excited, since they talked about it HERE, HERE, and HERE. Yeah, no less than THREE threads in a week about "Basic Grey at Big Lots!!!!!!" We Peas have lost our ever lovin' minds over this.
Okay, do you remember how MY Big Lots pretty much *sux*? The whole Thickers thing really soured me. We got, like, 5 packs total that were alphas (as opposed to the shapes which I have less than zero use for). I tried and tried and tried. Scrappers from all over the US of A were finding them at their Big Lots, I think for $1 or $2 per pack. But noooooo … not me. Not the Biggest Thickuh Luvah Evah. I couldn't find any for months and when I finally did, they were, well, meh. I mean, I bought them of course because we're talkin' THICKERS here, people! But it was anticlimactic at best.
So when I heard the online screams of "Basic Grey at Big Lots!!!" … I was, like, "Yeah, whatevs." I figured I'd check if I were ever in that area of town for something else but I wasn't going to make a fool of myself and stalk BL like I did for the Thickers. Okay, well, and the cheap Cricut cartridges. What's that saying? "Fool me once, shame on you. Fool me twice, shame on me." I'm nobody's sucker.
So I did burn rubber over to Big Lots in search of BG. It was more like a leisurely stroll. I restrained myself for, oh, a whole day before I manufactured a reason … erm … remembered something I really really really needed in the same mall as Big Lots, and then I finally went.
You're never going to guess: I hit the jackpot! Not only did my BL have the BG, I got some other cute things, too. I know you're only here for the eye candy and not my wicked frickin' wit, so here ya go … PICTURES! I didn't want to make you wait another day so you have to deal with the bad lighting because I took these pics Tuesday night. For YOU.
My entire Big Lots haul for 42 dollahs, baby!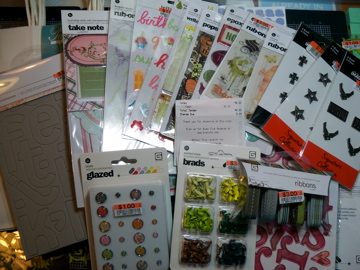 Basic Grey "Eerie" doilies and "Sugar Rush" alphas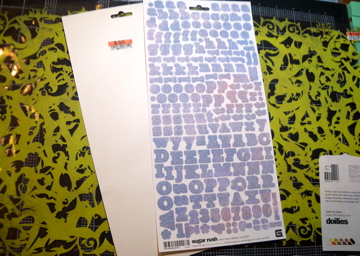 White gift bags which I love for wrapping gifts cuz I get creative with the ribbons and tags; only 30 cents a bag.
Basic Grey "Undressed" naked chipboard alpha and "Indian Summer" chip stickers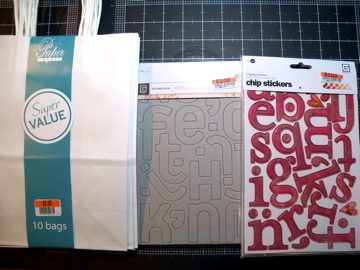 Basic Grey rub-ons, painted brads, glazed brads, pops, epoxy, writer's block, take note, ribbon, and bling it on – various lines.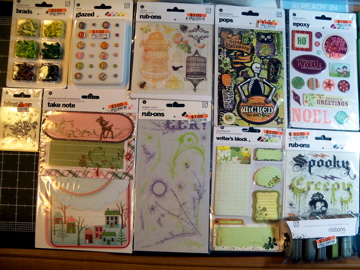 Happy Pear jelly stickers in "Birthday Words" and "Friends Words."
Creative Imaginations "Signature Collection" metal brads
That's a lot of scrap crap for only $42, huh? I was quite happy with my purchase. It's been a while since I've scored like this. I was due. Am I right?
I also have some Michaels photos for next time … the cute new Spring stuff they have on the shelves, and the 2 Cricut cartridges I got for $9.99 each from last week's big sale.