I went to BEVERLY's CRAFTS the other day and did a lil' shopping …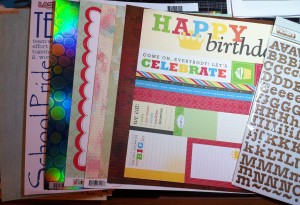 The 8 papers on the left were in the bargain bin, 3 for $1. I paid full price for the ECHO PARK birthday paper. I like how you can cut it apart and make use of it on several pages. I used a 40% off coupon on the burlap Thickers … so stinkin' cute.
Left the store for about $7. Just enough shopping therapy to make my day :) What's the last good deal you got?