One of the hot new items in the scrapbooking world is enamel dots. I love them because they add a little pop of color wherever you need it. They're less work than a brad – you don't even have to punch a hole. Just stick 'em down and be on your way :)
They aren't overly expensive (about $2-5 per pack), come in a huge variety of colors, and usually in 3 sizes per pack.
Here's my current collection: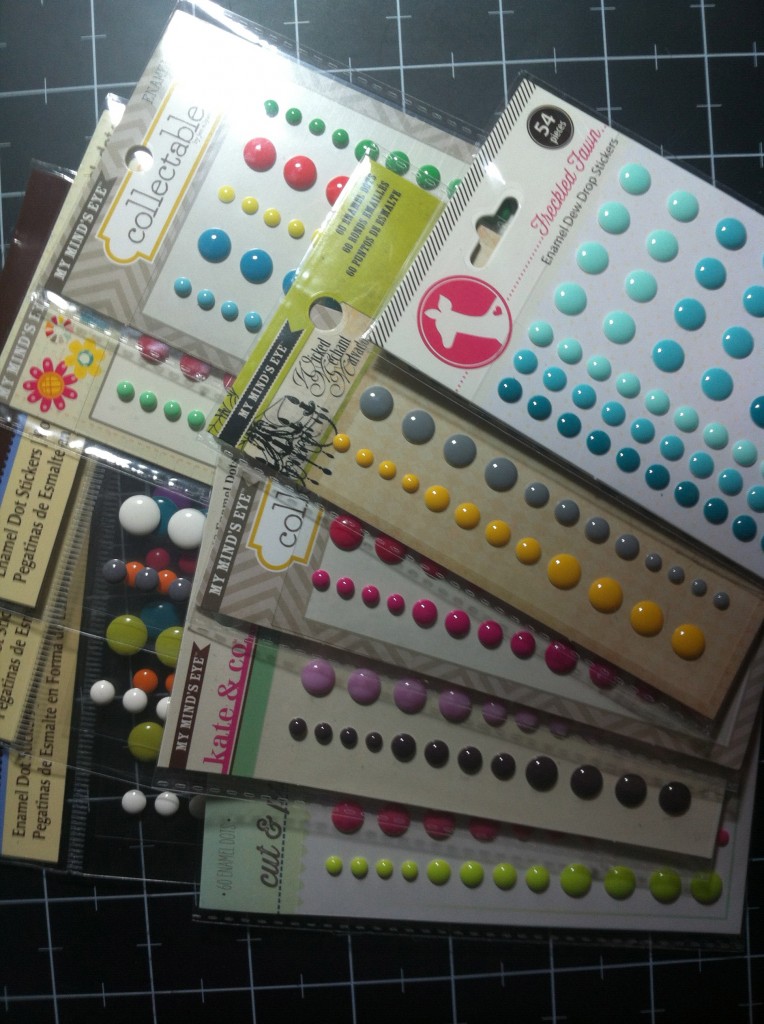 The only pack I paid full price for was the awesome teal one from Freckled Fawn. I just had to have those because those shades of teal blue are among my favorite colors.
The Recollections packs and the Halloween/MME I got from Michaels, using a coupon on each pack. 'Cuz you know that's how I roll. The rest of the MME ones are from a daily deal site. I think it was around $2/pack that way.
As I bought them, they were kind of getting tucked away all over my scrap room and not being used. So now I've gathered them all, put them with my Project Life stuff, and will start gettin' bizzy with some dots.
I did try to use some of the gray ones on a layout I did this past weekend but they were the wrong shade. So that means I need to buy more, right?
If you need to be enabled, here are some enamel dots on Amazon
.
Look how pretty these are!

The Sweetest Thing Lavender Enamel Dots-Reasons Why
Confession time: How many packs of enamel dots do you own? Do you use them a lot or still in the hoarding stage like I am? LOL Would love to hear from you! Just leave a Comment below.