Yay, it's almost time! Just wanted to send out a reminder in case you haven't signed up yet :)
Make sure you're at your computer tomorrow (Friday 05-17-13) at 1pm EST -> adjust for your timezone for "Washi Wahoo Too!" by Monica Bradford. If you're not available then, you will be sent a replay you can watch over and over, any ol' time.
Here's my washi stash: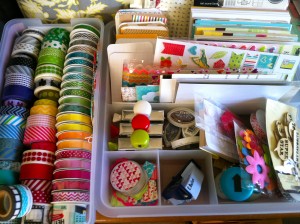 Yeah, I might have a bit of an "issue" with washi tape (gulp). But I'm sure Monica can help, LOL!
Please go see all the fun details and sign-up info HERE. If you're in a rush, just click here to sign up!
It's FREE FREE FREE so what have you got to lose? Hope to see you in class!