I was at Michaels last Saturday and thought I'd show you some new things I saw … 'cuz I know you HATE IT when I enable, LOL :)
Some cute new K&Co. albums …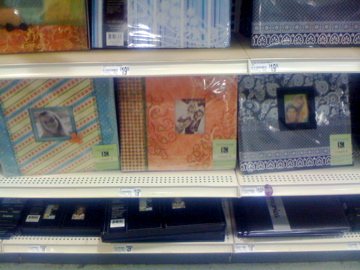 This is my favorite. I love the fun colors, the photo frame, and the flower accent. I'll probably never buy it, though. I'm a train wreck with embellished albums. I tend to shove my scrapbooks back on the shelf without care, and would probably shave that pretty flower off in 2 seconds flat. But it's a pretty album to admire on the Michael's shelf …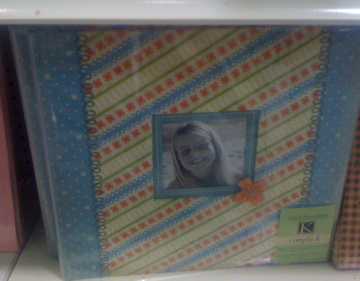 Some more cute scrapbooks but I think I had seen all of these before except for the blue/yellow one on the left. I really like that one, too …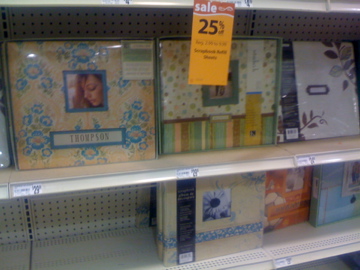 At first, I thought these "Spellbound" letters by MAKING MEMORIES were stickers. When I saw the price of $4.99, I was like WTH? But I picked them up and realized they're actually chipboard … so the 5 bucks is actually a pretty good deal.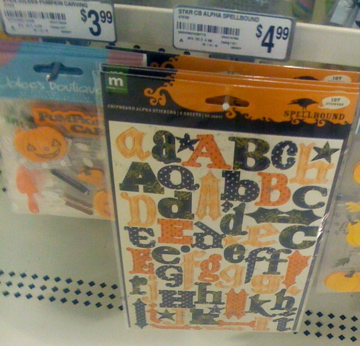 A Halloween page kit by K&Company. I was going to use my 40% off coupon to get this kit, then decided against it. It's a 2-page layout but had blanks for only 4 photos. Sorry, Charlie, I can't remember the last time I scrapped only 4 photos on a 2-pager. Especially Halloween, with all those cute costumes, jack o'lanterns, and candy bucket photos. Puh-lease.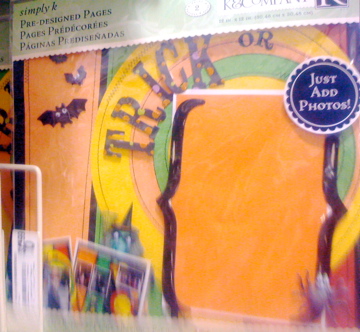 Here are some small, medium, and large canvases by K and Company. I propped up the project flyer that shows a way to use the 12×12 canvas. Great project idea and I love the different sizes and colors. The price seems kind of steep to me but what do I know? I've never bought a canvas before. Can you buy these over in the Michaels art section or at an art shop for less? Scrapbooking companies are notorious for packaging some common thing as a "scrapbooking product" and then jacking the price up to high Heaven. And I gotta' admit, I fall for it most of the time. But I'm onto this canvas fraud. Yessiree Bob …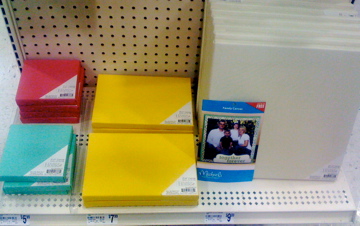 Look at these cute black epoxy punctuation stickers by SANDYLION. Yep, half price, from $2.99 down to $1.49. I got some of these.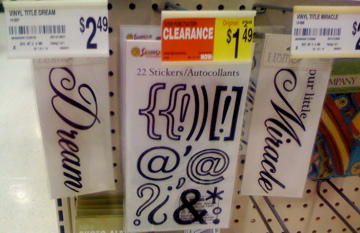 K&Co. embellishments. Some of these I've seen before but there are also some new ones. Aren't those butterflies gorgeous?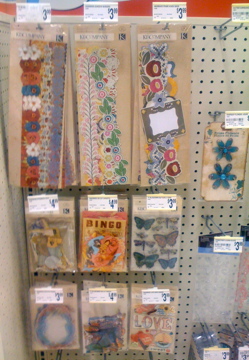 Sorry for the shadowy, bottom shelf look but, hey, what can I say? They were on a shadowy bottom shelf! An album kit and shadow box kit by K&Co. More butterflies. They remind me of that gorgeous line by Melody Ross for GCD STUDIOS called "ARTSY URBAN". Here is the entire BLOSSOMWOOD collection by Tim Coffey if you're interested …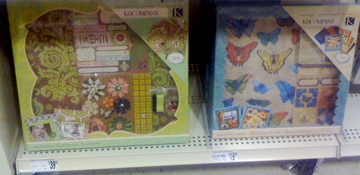 Speaking of butterflies and tricks by scrapbooking companies … why, yes, we WERE speaking of that … keep up, lady, keep up! Here are some butterflies that were not in the scrapbooking aisle; instead, they were over by the home decor. I'm not sure what their intended use is, but I thought they would look grand on scrapbooking layouts. Only $4.99 for up to 12 flutter-bys. You know that if they were packaged and displayed as a scrapbooking item, they would be at least 7 or 8 bucks. Sheesh.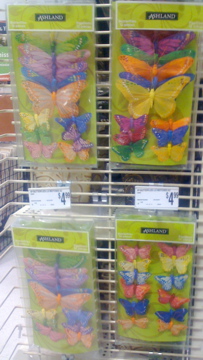 Now on to some Clearance items:
This little boy album kit was originally $24.99, marked down to $9.99 ~ what a deal. There was a similar girl album kit, too, for the same price.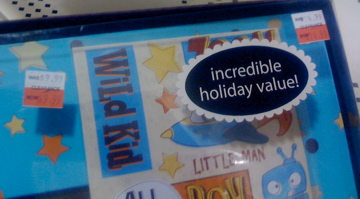 Ooh, blurry, sorry! I must have hiccupped when I took the photo or something. Mr. iPhone has no image stabilization whatsoever. Anyhow, "skins" for the GYPSY were on the Clearance already. I don't remember seeing them prior to this. Is that the equivalent to "straight to video" when a movie isn't that great? Gypsy skins, "straight to clearance!"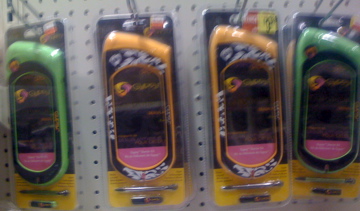 A whole endcap over by the party supplies was full of this black, lavender, and blue line by COLORBOK. It was all on sale at 2 for $1.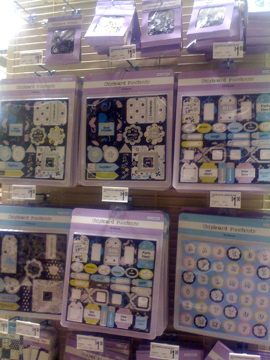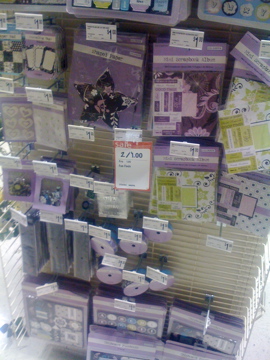 Lastly, all these cute packs of chipboard shapes were also over by the giftwrap. The chipboard is already white, which is nice, although it's kind of thin. I was thinking some of these could make great mini-albums. Just punch a hole in 1 or 2 corners with your CROP-A-DILE and use some binder rings. Or you could make some fun kids projects with these.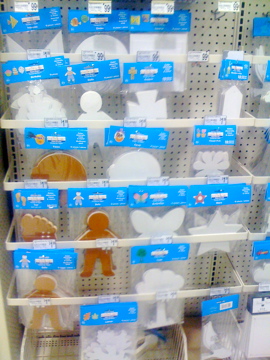 See the large circle on the bottom right? Those are HATS! Idn't that key-yoot!?!?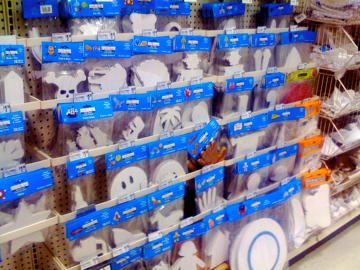 This star shape would make a darling mini album. I think with cardstock or patterned paper and photos adhered to each side, it would be sturdy enough.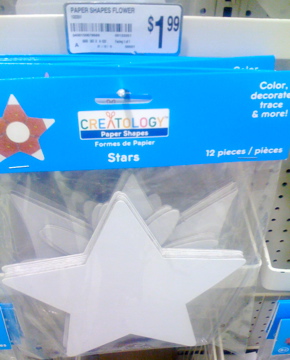 Hope you enjoyed the Michaels tour. I'm usually in such a rush, I only have time to browse the scrapbooking section. But Saturday I had some time to kill while waiting for a movie to start. It was fun to cruise the entire store at my leisure.
Later this week, I'll post pics of what I bought. Have you done any Michaels shopping lately?