I hope you had a wonderful National Scrapbooking Day! I know a lot of you made a weekend of it, which is awesome. If you haven't already, please go HERE and play my NSD games. There are 3 games with 3 nice prizes. You can enter all 3, and you have until this Friday at midnight PST! Go play now, then come back and read about Michaels. This post ain't going anywhere :)
~*~*~*~*~*~*~*~*~
In THIS POST from last week, I showed some photos that my friend had taken at HER Michaels. Well, I have since been to MY Michaels and have more photos to share. I was surprised to find that some of the changes to products and the way they're displayed have actually reached my Mike's.
Here are the spinny racks that I was so sure I would never see at my store. But there they were!
Personally, I don't care for the Recollections paper line on this side ….
… but both of these lines are very pretty. I especially love that 2nd paper on the left with the Eiffel Tower.
So now to the whole "sorting by theme" thing. My Michaels has had two of these sections for a while now: Baby and Travel. Here is the Baby section; it's in the same place as before but it looked like they had added some new things.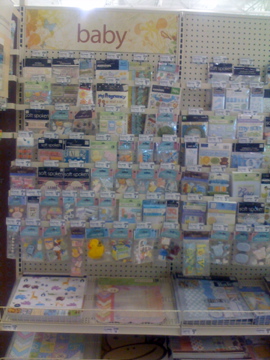 Obviously, here is the Travel section. More on this later …
These were new: "Fresh Glitter" and "Fresh Flocking" by STUDIO G. That's the same company who makes the MIKE's $1 STAMPS. These monochromatic packs are only $1 each, too. I'm not a huge glitter fan but I would like to try flock one of these days. I wonder if this stuff is good quality.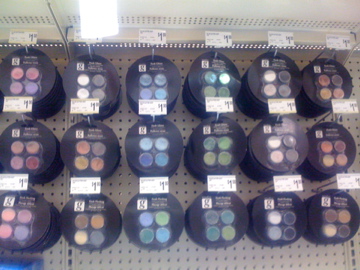 These plastic storage items were new, at least to my store.
As you can see, we're still in transition, LOL! This will be the rack of new Jolee's that I posted a pic of in that last entry I linked to.
Now that I've seen them closer, I can't say as I like them a huge lot. For instance, these are super glittery which is not my fave.
There were also some new alphas including these puffy and glittery alphas by ATD. I really like the size, font, and colors of these letters. At $4.99, they qualify for future coupon usage, lol.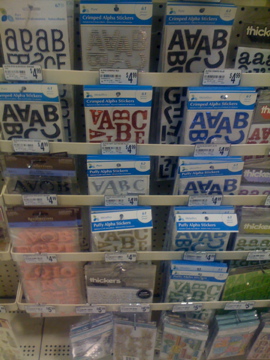 More on themes … Sorry the photos are blurry but I noticed that all the military, police, and fire embellies had been gathered here, regardless of manufacturer.
Same thing with Family stuff. Yes, we already had a few sections of family-related items before, but now ANYTHING that has to do with family is in one spot.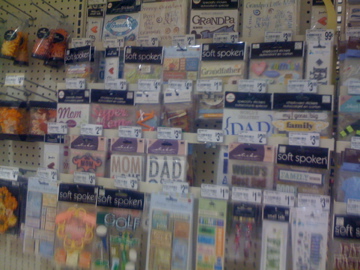 They had also divided everything else up into themes, like Christmas, Halloween, Fall, Sports, etc. I still don't think I like it. For one thing, with all the different size and style of packages in one place, it looks messy. Also, it's going to be hard to find when they've added something new and it'll be impossible to search by manufacturer. Two of my favorite sections before were where they put all of the SOFT SPOKEN and the K&Co. embellishments. Now those will be all parceled out and displayed by theme instead. Again, how are we to tell if something new is added? That's going to be a big ol' PITA.
.
.
.
All of these 12×12 open stock papers were new to me.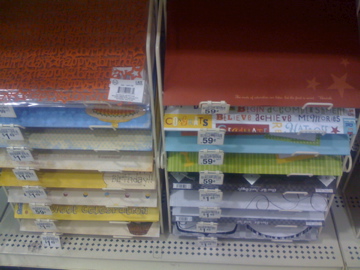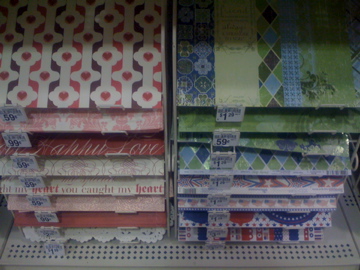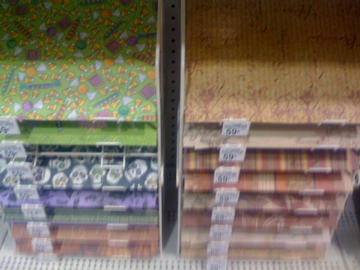 Isn't that white lace doily paper pretty?
Finally, just wanted to share these new Recollections for Kids stickers. I'm sure kids will love them. They are bright, colorful, and fun!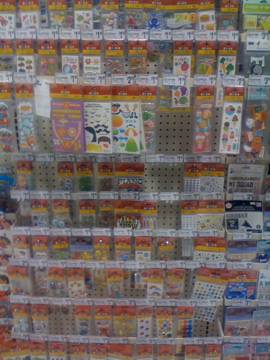 Love the pear, the lollipop, and the gum ball machine.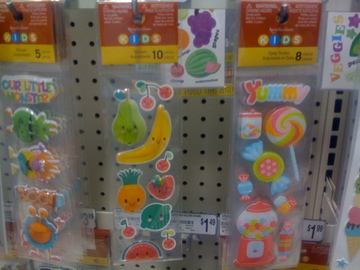 Don't forget … go play my NSD games! Now, before you forget, LOL :)