I was at Tuesday Morning on Monday Morning (bwahahahaha! I crack myself up!) – and I saw these 2 things from K&Company: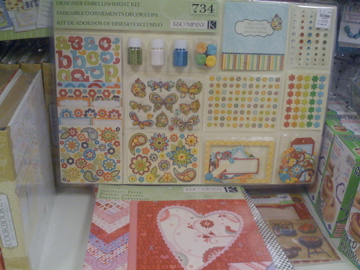 They had the Brenda Walton stack for $4.99 (retail $14.99). It's all Valentiney and hearts. Very pretty but not something I need at this particular juncture.
And this huge kit for $8.99. I guess it's their Wild Saffron stuff but the colors seemed brighter, and the quality didn't look as good, i.e. the die cuts and stickers looked thinner than their usual quality. Then again, it was all hard-core, hard plastic wrapped up like a Costco Heidi Swapp kit, so it's not like I could actually check the quality or anything.
I debated about getting it. Even if I wouldn't scrap with the thin-looking die cuts, the stuff I would use (chipboard letters, primas, and bling) would justify the cost. And I could use the die cuts and stickers on cards. In the end, I passed on this too. The Wild Saffron line happens to be one of my favorite lines evah! and I have a bunch of it. What, really, has this economy come to when I'm forced to pass up something that I know in my heart is an excellent deal, for the mere fact that I don't need it? They really need to fix this economy thing, and fast, don't you think?
A scrapper shouldn't be forced into a Sophie's Choice like that. For real.