In case you didn't see THIS post, there is a great tutorial out that shows you how to go 'around the corner' with your Threading Water punch by Fiskars. I didn't have time to make a card or anything, but lastnight I had just time enough to play with a piece of scrap paper to see if a 'non-professional' scrapper like me could master this technique. And I'm here to tell ya, it was pretty easy. The tutorial is well written and has the perfect photos to walk you through it. And here is the cute little scalloped rectangle I made…yay me!
This is a pic of the TW punch, and the back side of my mat. If you look closely, you can see which corner didn't perfectly match up and I had to trim it with scissors, resulting in a kind of googly corner. But I'm not picky enough to let that bother me. However, I will keep practicing and I'm sure I'll be able to perfect that last corner someday, LOL.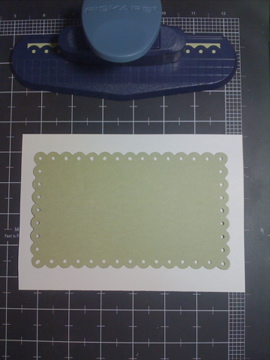 This is the same mat just flipped over. Don't know why I took a photo of it except that I liked the pattern on this side and how it looked with the eyelet shape.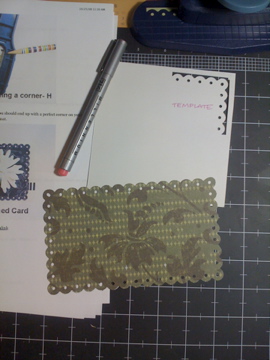 *Thank U* to my friend Gloria/GLOANN (a CKMB and AMR sweetie) who tried it first and showed me how easy it was, and then she left a comment on the Scrapbook and Cards Today BLOG mentioning my blog. She is one of THE most genuinely nicest ladies I have ever met, online or IRL.
So give this technique a try. If I can do it, you surely can! The results are smashing…