I had the opportunity to do some shopping in The Big City, as I had a fun Girls Weekend at the beach and, what do you know, I had to drive through civilization to get there. Here's my shopping report:
On Clearance at Mike's: Prima flower milk jars($6.99 down to $2.99), and Making Memories 8×8 paper pad, Travel. See those cream colored flowers in the bottom left of the photo? I had those in my hand. They went on a quite a walk around the store with me. I had layout ideas in my head on which I would use them.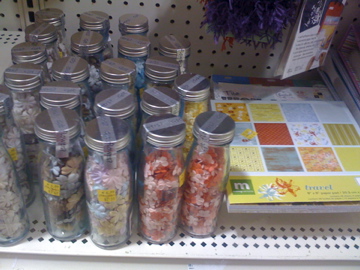 But I put them back on the shelf when I found this. Ah, paper punches on Clearance! Wow, that worked out nicely….with the photos stacked on top of each other, I almost matched them up, didn't I? These were on an end cap, where our Mike's now has a lot of scrap clearance these days.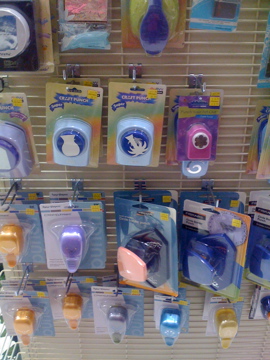 Here is the punch I bought: Regularly $14.99, marked down to $7.99, and with my 40% coupon, it cost me just over $5. Did I get a great deal or what? Sounds like 66% off to me! Isn't it cute, how it does the zigzag edge, which reminds me of Bazzill's specialty cardstock…now I can make it myself. This punch not only punches the zigzag shape, it also embosses a dotted line, adding the perfect detail. I'm so happy I got it!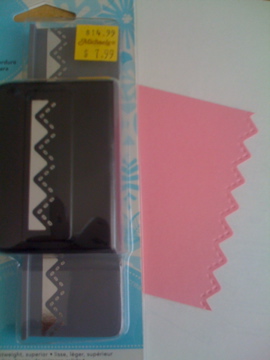 My other purchase from Michaels, a bling title that says "Beach." This is perfect for the title of my Girls Weekend layout. I'm going to title it "Beach Girls".

Remember, I told you HERE that my last LSS (still, it's 45 minutes away) sent out an e-mail that they need help through the summer and, hopefully, they would not have to close in the fall. So I paid a little visit, didn't I?
ETA: Chris commented about Sass Lass and MME being at Michaels so I'm going to clarify here….everything below here was from my LSS, except the clipboards which are from Wallie World ~ I wrote this post at 1am so I wasn't very clear :)
Here is a predone layout I bought. Number one, I love it…the Love title, the white puff paint dots around the scallops, and the Basic Grey line that was used, which I happen to have plenty of, I'm going to make a companion page to go with this. From the 50% off table, so I paid about $3 for it.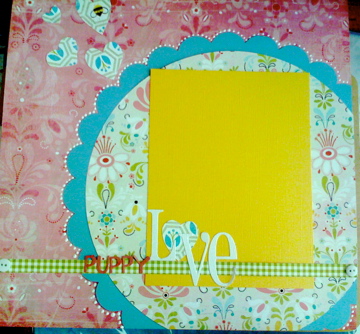 Here are some bee-you-tiful papers I got from My Minds Eye. Love, love, LOVE scalloped edges.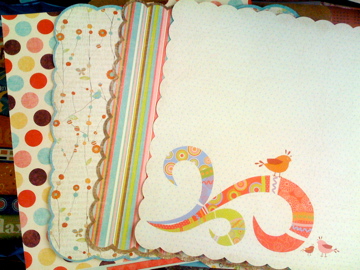 Here is a sheet of Flair Designs paper. I like how you can cut it apart for use on your pages.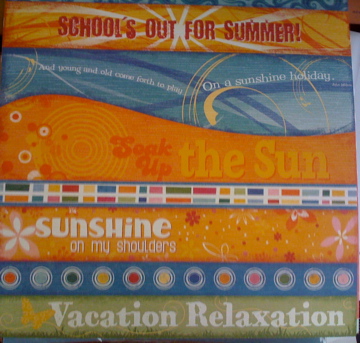 Here's some more goodies. The back of one of the MME (My Mind's Eye) sheets, Basic Grey "Offbeat" chipboard stickers, some journal and title spots from MME, and a great deal on a ribbon pack (50% off).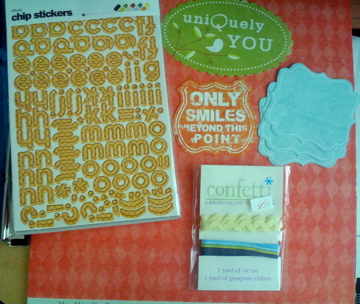 Finally, may I share a whole lotta' Sass Lass love? Yep, these were also on the clearance table, and only cost me $2.49…wait, no! Half off of $2.49 would be about $1.25 each, or $5 for all four.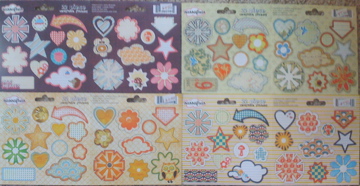 Oh, not "finally!" I forgot to show you the clipboards I got from Walmart. I'm going to alter them, and use them in my home office. They cost under $1 each…
"Thank you for watching. This has been Scrapbook Obsession reporting from inside Scrapbook World."