Colorbok goodies from the Dollar Bins…I got the green flutterbys and white stars…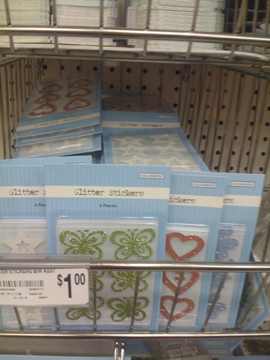 Hard to see from these pix but there were embellies, small and large shaped papers, etc. The colors were pretty….white, black, green and blue…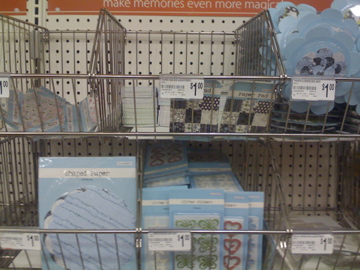 Check out those shaped mini board books!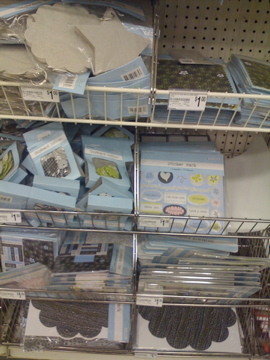 I guess the sale ends today (Saturday) but it was 40% off ALL stickers, including these new ones from K&Company that were on an endcap with the whole new line of Que Sera Sera. SUPER pretty!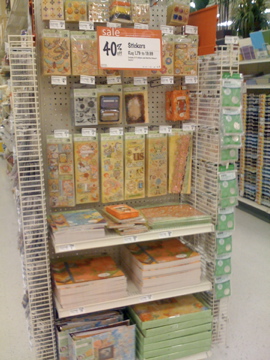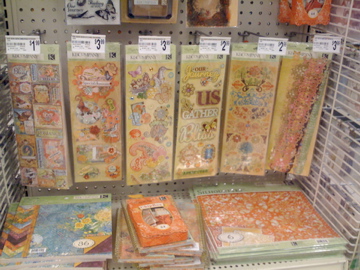 I couldn't pass up these lace papers. I'm such a sucker for shaped papers. But I did use a 40% coupon so they were practically free, right? LOL!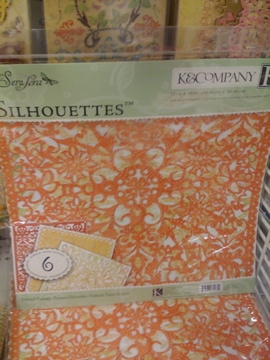 This Mike's had the new Making Memories line filled in better than the last photo I posted of it. It's all pink, black and white.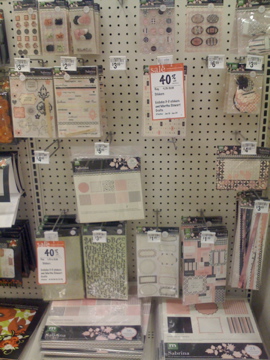 Here are 2 albums for my wish list.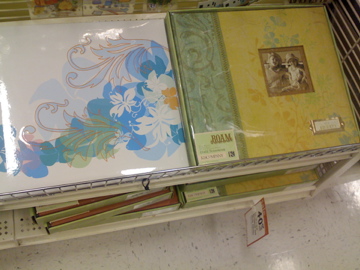 It was interesting. They had a long separate section up by the registers, perpendicular to all their other rows so it really stood out. One entire side of it had scrapbooking stuff that mostly was Vacation themed from all different manufacturers. Along the bottom were older and newer 12×12 albums. Maybe they're trying to reach out to those who've never scrapped before? I mean, you practically had to hurdle the section to get to the registers! Great idea, Mike's. I hope you can recruit some new scrappers!
What do you readers think? Gonna' go after any of these goodies?
Oh, and remember the Prima bling swirl I coveted in THIS post? I snagged it yesterday with my other 40% coupon. Whoo to the Hoo! It's so pretty, I'm going to be afraid to use it.