We were visiting friends in another city last weekend and I was able to go to a Michaels other than my own. As my friend and I were leaving to go shopping, DH said, "Go ahead and 'have fun shopping' (spend money)," so I did, LOL! This other Mike's had so many things mine doesn't! On the one hand, it pizzled me off. Like, why is her Mike's more special than my Mike's? So. Not. Fair. On the other hand, I decided to take advantage of these extra products and pick up some of the goods in case my store never gets them. Perfect shopper's logic, right?
First, peep my new alphas. I've loved me some K & Company "Wild Saffron" since way back HERE. It's one of my Top 10 Favorite Lines of All Scrappy Time and, therefore, I own just about the entire line. Well, I did not have these chipboard alphas; had never seen them in fact. So I got two @ $5 each :) Soooo spendy….
Also got these apple green felt letter stickers ($5) by Making Memories…so cute! And some journaling transparencies by Recollections. You get 6 ($3). I love the scallops on the edges, and that these will go with just about any layout. Since they're see-through, they'll take on whatever color ya put behind 'em.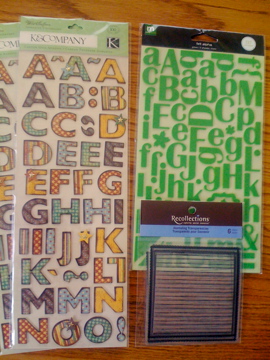 Here's some more Making Memories…the "Autumn Splendor" glitter spiral journaling notebook ($5). Those leaf-shaped pages are my favorite. The yellow sheets say "I am thankful for…" and have some cute pears on them; I noticed pears on a lot of products so it must be a new trend. I'm thinking of scrapping with the yellow "thankful" pages at TG this year, having each family member write what they are thankful for in their own handwriting and collecting them on a layout or in a mini-album.
Keeping with the Autumn theme, we have some brown velvet chipboard alphas by Recollections (only $2 so I got two sets). I took a few out of the package so you can see the cute mixed font. The layered chipboard stickers are from the Colorbok "XY&Z" line; they're called All Occasion. I love the happy color palette and the "create" sticker the bestest.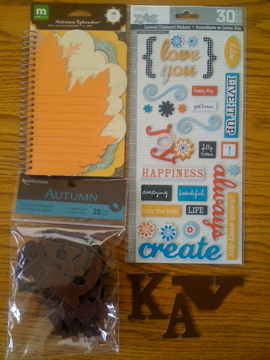 These are Travel chipboard borders by Making Memories ($3). Super cute, love the glitter and shiny blingy-ness. I have another set of these in a different theme and love them. I like to cut them up and layer or stack them on a layout. They're hard to see in the package … I wanted to lay them out so you could see them.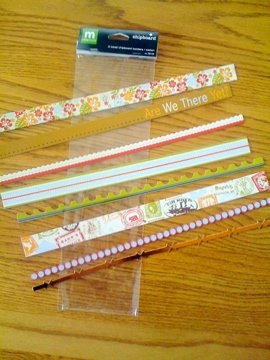 Last but not least, "Just the Edge" by Bazzill Basics ($3). They had several colors but I chose white because then I can chalk, ink, paint, or 'whatever' them to match the look I want. Or even keep them white, lol. So many possibilities, right? There are 20 pieces, 2 of each style and, again, I spread them out so you can see each one.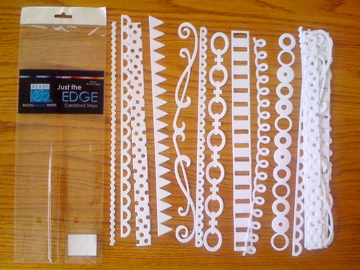 Here's the part you will NOT believe. Are you sitting down? You sure? Okay. I bought all of this stuff…and none of it was on sale…and I did NOT have a coupon. No. Coupon. I know!!! I truly did not think it was possible for me shop for scrappy goodies at full retail price. I did get a little case of the shakes and I almost couldn't do it. But then I did. Spent a sickening $40, too. I could barely stand it…that's just not how I roll.
I also found some new open stock paper at this particular Michaels. It's by Recollections (the Michaels brand) and you can see it all HERE. I think the Garage Sale line was my favorite; here are a couple sheets from that collection…
I had this sheet from the Birdwatching line in my hand and was ready to pick up more Recollections papers…
…when I realized I was traveling and would have to somehow get 12×12 papers home in a packed-to-the-gills car. So I put the paper back, and hope to someday find this stuff at my own Mike's where I can buy some later.
Have you seen these items at your Mike's? Do you have or want any of them? What's your best find at Michaels lately?
Reminder: Read HERE about how to try and win some blog candy…just over 2,000 hits to go until we hit 500,000!