Here was the challenge from Joscie:
~~~~~~~~~~~~~~~~~~~~~~~~~~~~~
My challenge is pretty simple:
I find that using a monochromatic color scheme can have a strong impact, so I challenge you to create a layout, card or project in a monochromatic color scheme. You may choose any color in all its values (tints and shades) plus white, black or kraft.
here is the layout i created in shades of brown…. it's called those eyes.
"THOSE EYES" layout by Joscie Cutchens
~~~~~~~~~~~~~~~~~~~~~~~~~~~~~~
I've always wanted to do a single-color layout but probably wouldn't have done it without this challenge. Here's mine: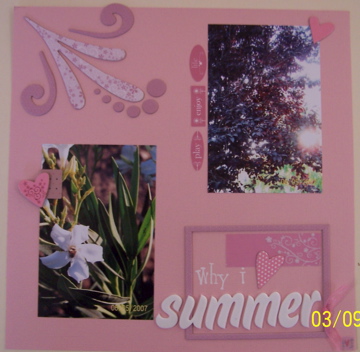 Materials: Bazzill cardstock; thickers-type letters from Dollar Tree/Miss Elizabeth; unknown ribbon; everything else from Heidi Grace kit I got at Tuesday Morning ($25 retail for $10).
I never do 2-photo layouts either, but these were 2 random photos I had taken in our front yard last summer & now they are scrapped!