I picked these up at Walmart today. I don't know if they're old news there, but it was the first time I'd noticed them.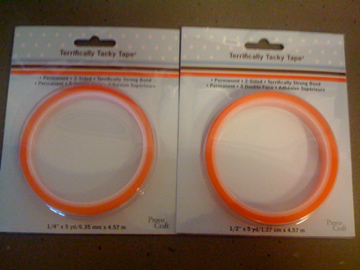 *This came out blurry because I took it after dark tonight. Will try to get a daylight pic and repost, but you get the idea :)
The packaging is different (more plain) and the name is different than when I see it at Michaels, like this, but it's the same thing:
Instead of me trying to explain what it's used for and why it's so cool, I'll let MICHAELS.COM do all the work:
Truly, a terrific double-sided tape in roll form! It's industrial strength with an instant bond which increases over 24 hour period to maximum bond.
COMMONLY USED SURFACE-TO-SURFACE APPLICATIONS:
1. paper to paper
2. beads, glitter, etc. to paper or other surface
3. embellishments to ornamental fabric items
4. plastic or metal to paper
5. paper, plastic or metal to wood
DIRECTIONS & TIPS FOR USING TERRIFICALLY TACKY TAPE:
Apply tape to first surface.
Remove protective liner and apply second product (beads, glitter, etc.) or second surface.
SPECIAL TIPS: Use at room temperature. Surfaces must be dry, and grease free. Do not expose to air until ready to use as curing will commence.
You can see HERE what a wide range of prices it usually sells for, although when I click on a lot of those links, they don't carry it anymore. I got the 1/4 and 1/2 inch sizes for $3.00 and $3.50 respectively. Seems like a decent deal, especially since no shipping charges :)
I've used this product since way back in 2005 when I discovered it in a CKU class. It indeed has a very strong bond, and it's easy to use. I like it for attaching ribbon strips to my layouts just because it's in a strip form and holds so well, but it's also great for attaching heavier items. It looks red, but that's just the backing. When you peel that off, it's clear. Just a great adhesive, so I thought I'd share!