Well, THIS post has been going for a week at 2PEAS, about all the lucky ladies finding THICKERS letter stickers at Big Lots for only $2 a pack (they are usually $4-5). I finally made it to my new Big Lots (I wrote about when it first came to town HERE) and….remember the Soup Naz! on Seinfeld?…."No Thickers for you!" Nope, my Big Lots had none.
Rats. Double triple rats.
As one who likes to take lemons and make scrapbook lemonade, I found a few other things and did not leave Big Lots empty-handed. Here is what I found: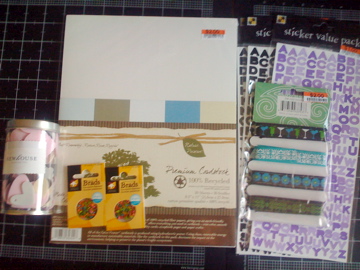 Some AC foam shapes, an 8.5×11 cardstock pack in pretty, muted colors, All Dressed Up adhesive ribbons by DCWV, and 2 packs of tropical colored mini brads. Also, 2 black/1 purple DCWV alphas. I got a pack of the black alphas on my last trip and have since used them on 2 projects so I got me so mo'….
Here's what comes in the American Crafts foam shapes: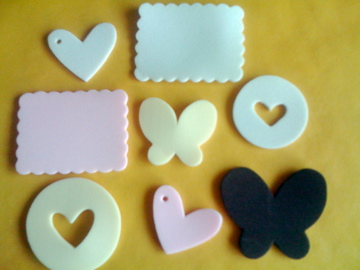 Not bad for a grand total of $14, eh? That includes a binder (not shown) that I needed for work.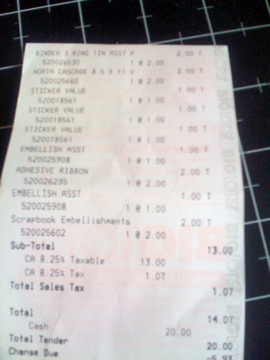 But I'm still bummed about the Thickers….Hey, have you been a lucky Big Lots shopper? Tell us which Thicker packs (or anything else) you got!