Part 2 of my Big City Shopping day, and now we proceed to Michaels. It must've been ANNA GRIFFIN day, because just like TUESDAY MORNING, Mike's had some new Anna stuff. The line is called "Darcey" and the colors are bright and look better in person than they do in my blurry iPhone photo.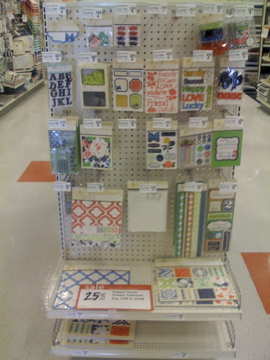 I love this scalloped acrylic album! It has 5 pages and 2 binder rings. I didn't get one because, as you can see from the signage in the first photo, all the "Designer Corner" stuff was on sale for 25% off. I'll wait for a 50% coupon and get this album for 10 buckeroonies.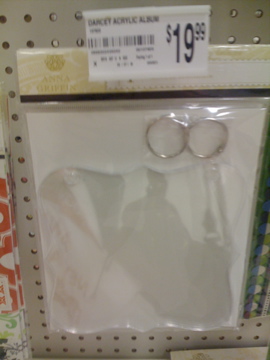 These chipboard letters are cute, too. I use a lot of bright colors AND black, so these may be a future purchase (with coupon, of course…).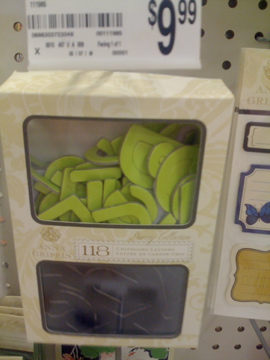 This is a new line by PRIMA. It's a departure from their usual pretty-pretty stuff. The skulls and guitars – I don't know if you can tell from the photo – are made from tiny bling. Very cute! I think this line is very cool but I don't have anything I would use it on.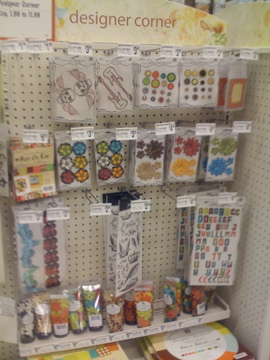 Here is the Making Memories "Black Tie" line that I talked about HERE.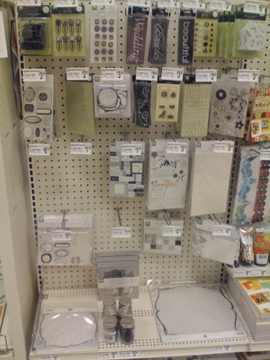 And this was my favorite of the new stuff: The "Vacation" line by Me and My Big Ideas (aka MAMBI). I'm a sucker for bright, tropical colors for all those upcoming summer layouts. We have a swimming pool so I end up doing lots of layouts with turquoise being the main color. This line will be a perfect fit.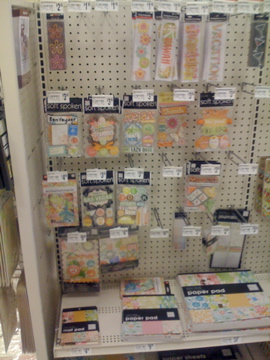 This was interesting…a new line by K&Co…darnit, I can't remember the name of the designer, maybe someone can help me out or I'll try to find it online. Anyway, the focus seems to be "green" with those tote bags and recycled packaging, similar to the K&CO/Amy Butler "Lotus" line they recently carried. Not my style, but cute.
ETA 5/21/09: Thanks to a comment left by ALESK…..it's Carolyn Gavin. Thank you! Love my girls who comment! *U Rawk*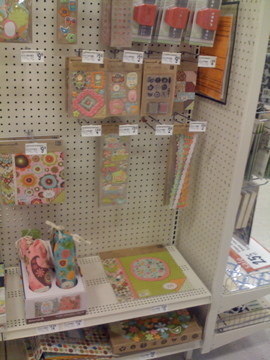 Closer look at MAMBI travel and summer stuff…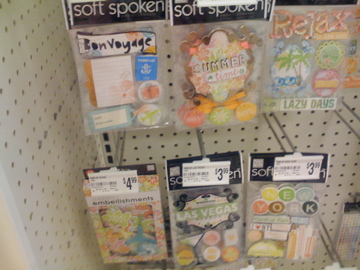 Cute new EK SUCCESS punches! Flowers and fruit…so summery.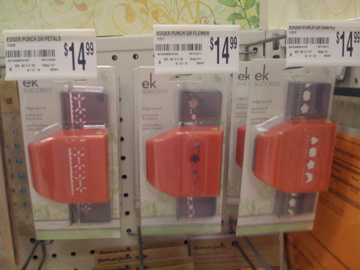 Here are some photos from after I got home. On top are the MAMBI journal spots and "Vacation" title I got…yum! (Both for 25% off). The Making Memories "Well Worn Tags" were sold as a pack at Tuesday Morning. Normally, they would've cost about $12 ($4 each), but I got all three for $4. That's, like, 66% off, am I right? What a steal…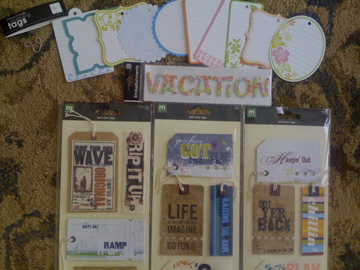 This is the coupon (20% off entire purchase from 9 to 1 on Memorial Day), and June coupon book they put in my bag at checkout. Kewl.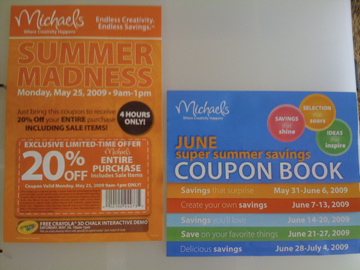 Just an example – the discounts from the first page. Good stuff, yeah?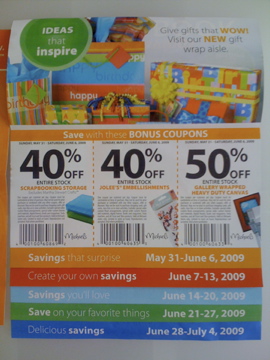 My favorite purchase of the day, a scallop square Giga Punch. I used my 50% off coupon and got it for around $9. Schwing!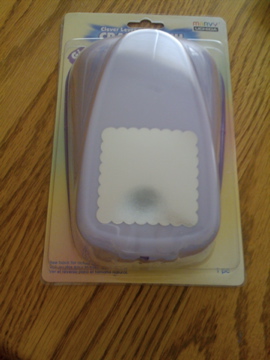 So that's the haps at Michaels these days, and my fun purchases. At Mike's, what have you gotten lately or what are you planning to buy?