Thought I'd share pix of these 3 stacks of ribbon I found in the Target Dollar Spot yesterday: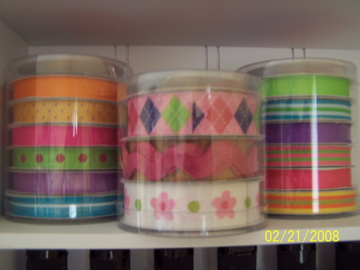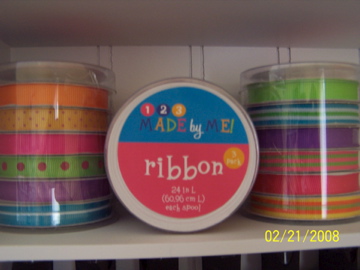 Sorry for the glare ~ didn't have time to take them out of the package! The brand is called 1-2-3 Made by Me! and there were several other kid-related craft items with this same brand, e.g. glitter glue, markers, etc. This was the only thing scrap-related I saw, but you might have better luck cuz my Target is lame.
I was @ Target to get milk, bread, and hand lotion, I swear! Btw, I also got some Johnson's Soft Lotion 24-hour Moisturizer ~ a 2 pack on clearance for $4 ~ and it smells divine. Ooh, I love me a good smelling lotion! As big a weakness as scrap supplies?? Uh, no. But a close second I'd bet.