I'm sure this isn't a very big deal for most of you. But for someone who's main scrap shopping opportunities are Michaels, Target, and Walmart, you have to understand my excitement. WE JUST GOT A BIG LOTS!!!!!
I have always been so jealous reading those lovely, enabling message board posts about 'the finds' everyone has at places like Archivers (never been there), Joann's (don't have any), Hobby Lobby (nopey, nopey), and Big Lots. So now, I'm at least 1/4 of the way into that exciting world. And luckily for me – She of the Empty Wallet – it's the most bargain-minded store that came to my 'hood. So forgive my overdoing it with the photos but just thought I would share all the scrappy stuff I found at MY – yes, MY – Big Lots the other day.
LOTS OF STICKERS, MAT STACKS, and AMERICAN CRAFTS EMBELLIE JARS
QUOTE STACKS….for Cinco de Mayo…Hey, you never know!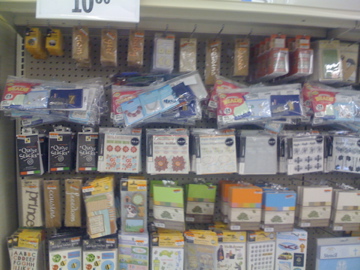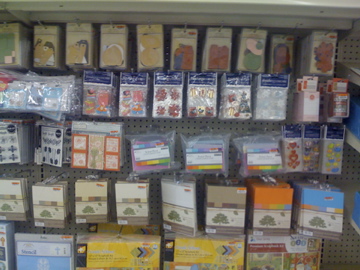 8.5×11 CARDSTOCK PACKS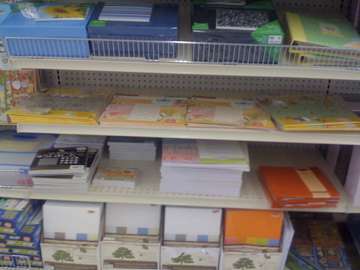 PHOTO STORAGE BOXES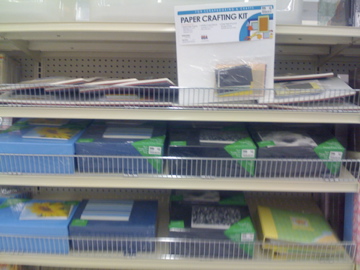 A BIG HONKIN' SCRAPBOOK KIT – I heard a lady in the aisle say that she saw this kit at Costco for $40, but it was only $25 at Big Lots. And there was only one.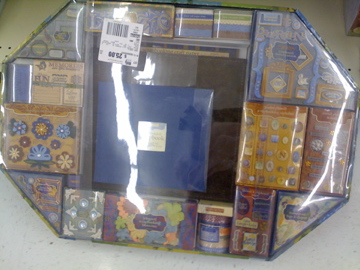 TEEN KITS, CHRISTMAS KITS….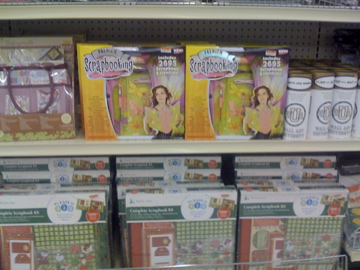 COLORBOK GOODIE BAGS – Tons of misc. stuff for only $12…."$100 value!"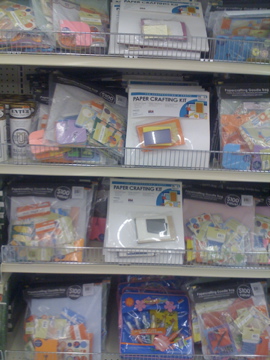 SCRAPBOOK STORAGE OPTIONS AT A GREAT PRICE – I was eyeing those 3-drawer things but I have to see if the dimensions work for my space.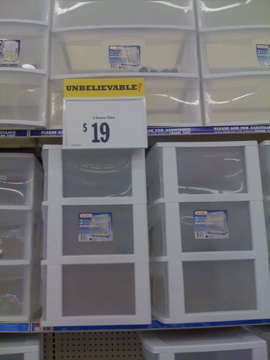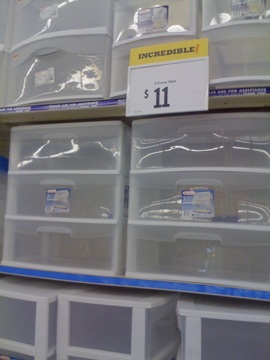 A PRE-DONE SCRAPBOOK – Hey, I'm not opposed to them as long as they are cute….great timesaver! And you can add embellies to make it your own.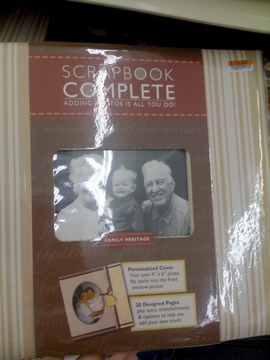 CUTE 8X8 ALBUM FOR 5 BUCKS….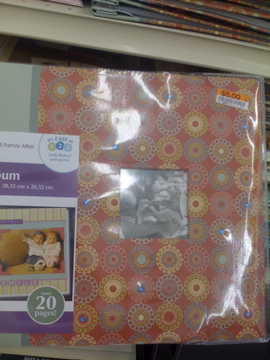 YOU 3-RING SCRAPBOOK LOVERS MIGHT BE INTERESTED IN THESE – I didn't recognize the brand but the quality seemed good and you can't beat that price!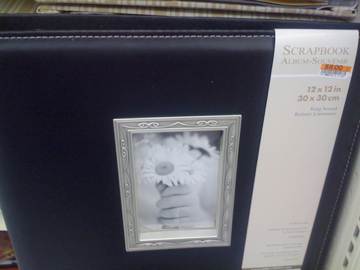 LOADS OF 8X8 AND 12X12 ALBUMS!!!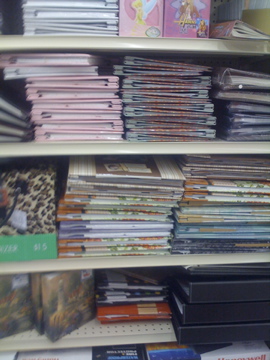 CLOSER LOOK AT AMERICAN CRAFTS RUB-ON BOOKS….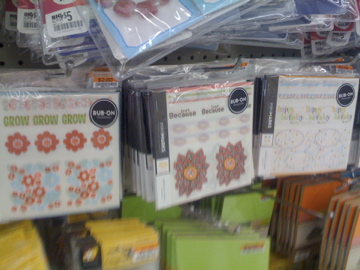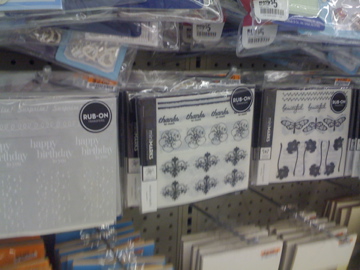 … and AMERICAN CRAFTS 'ELEMENTS' RIBBON, AND PRESSED PETALS 'CHIP CHATTER SHAPES'….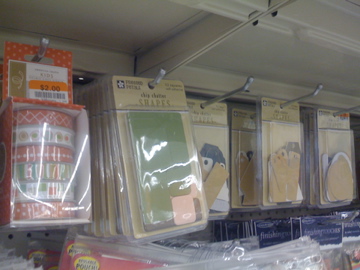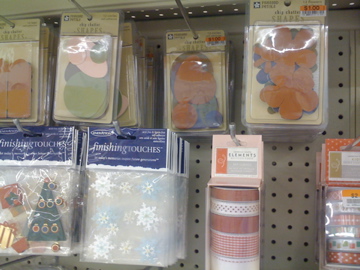 AS SEEN ON TV! THE CRAFT LITE CUTTER – I assume that's a great price if you're in the market for one…
A CLOSER LOOK AT THE DIE CUTS WITH A VIEW 12X12 ALBUMS – A stunning $8 each! Even the turquoise velvet one…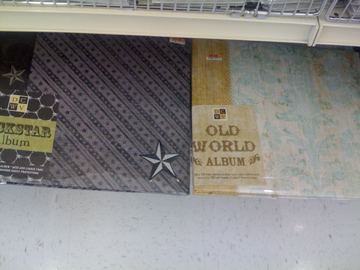 AND HERE IS WHAT I ENDED UP BUYING: DCWV 'Old World' album ($8), AC red ribbon (it was unmarked so she gave it to me for $2), AC 'Happy Birthday' rubons, great for card making ($2), Pressed Petals 'Chip Chatter' letters in metallic green and red; I'm thinking Christmas layouts ($2 each), DCWV 'Pocket Full of Posies' mat stack ($3), so pretty, and metallic words ($1 each). All that shizzle for under $25. Made out like a bandit, I'd say.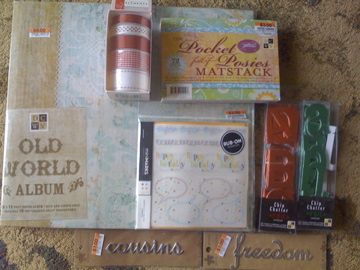 Personally, I don't care if something is NEW or HOT or JUST INTRODUCED AT CHA! If it's "old" and I like it – and I get a great deal on it – I'm a happy girl. If you're the same way, don't forget to check out your Big Lots once in a while. You never know what you'll find….