Okay, first I'm gonna post pics I took at Michaels on Monday night. I got out of there pretty cheap ~ without a coupon, even ~ because they had all this 99 cent stuff.
I got the lavender velvet alphas, Halloween ribbon, chipboard travel stickers, and journaling stickers by MAKING MEMORIES …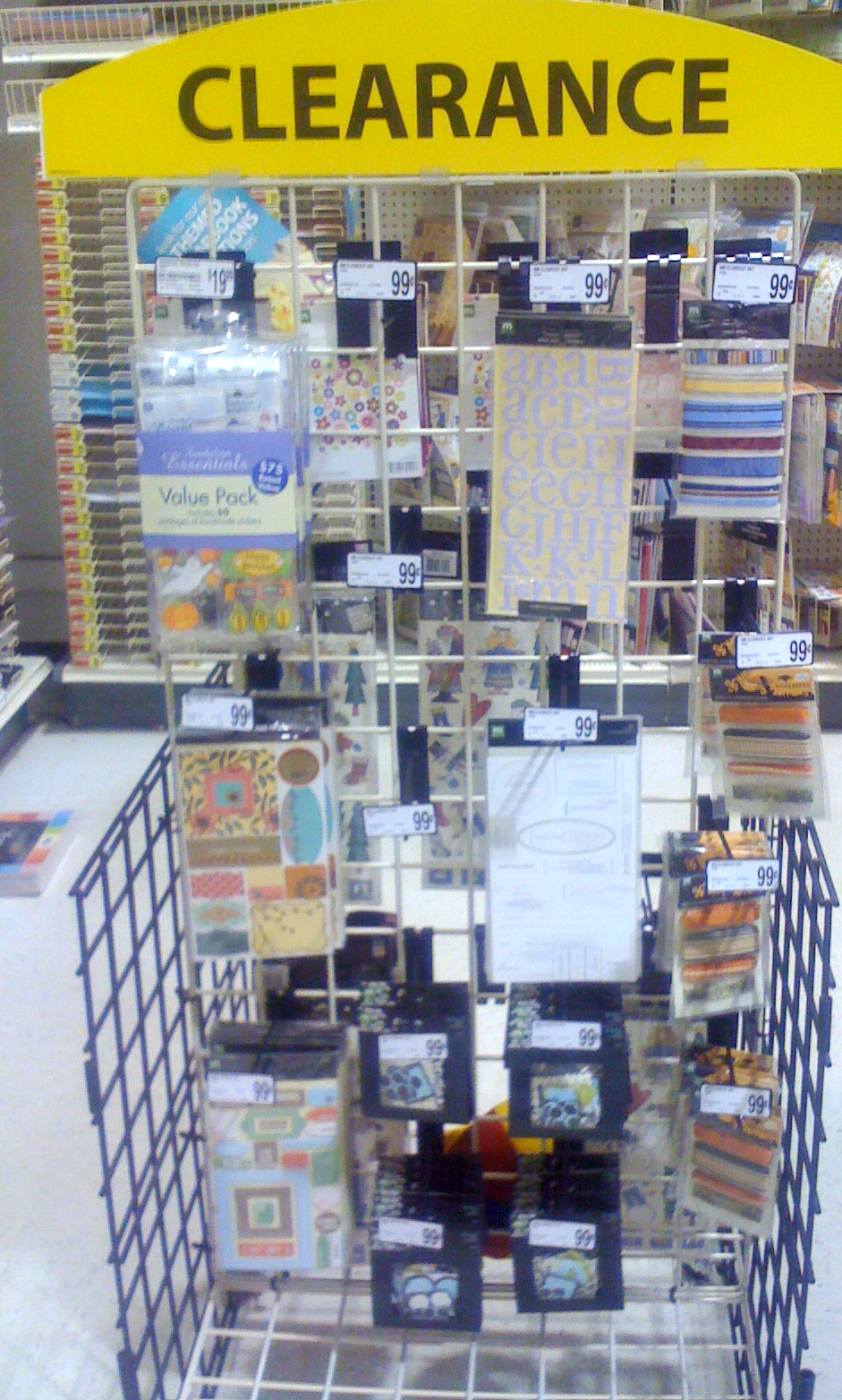 Also got the cute baby journaling spiral book by Making Memories. Don't ask me why those funny hats are down there. I have no freakin' idea …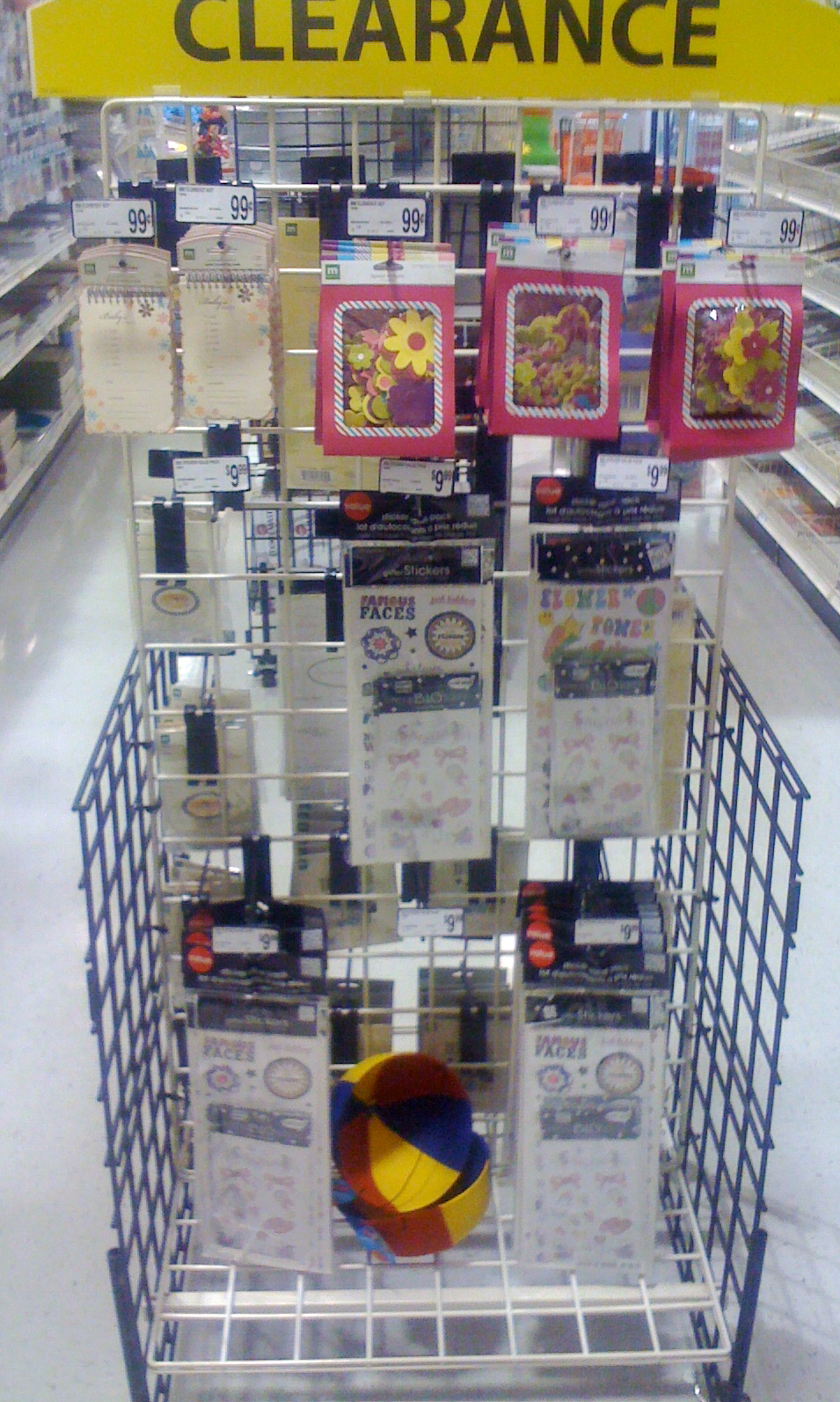 They had these large bundles of MAMBI stickers for $9.99 …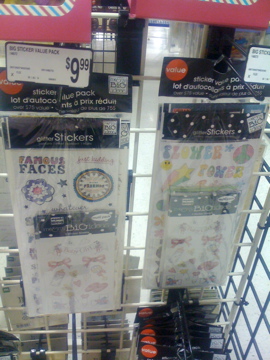 … and even larger bundles of Sandylion stickers for $19.99. I resisted both, so my only spending was the $5 worth of dollar items.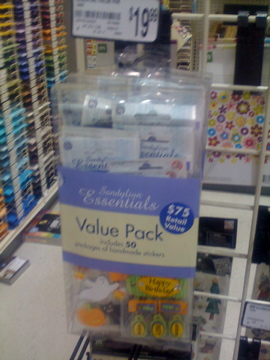 I had to laugh at this sign, now all kindsa' crooked, STILL promising that Themed Scrapbook Collections are "coming soon," yet the sign has been there SINCE MARCH 7th, which is a month ago. I think even the sign is getting tired of hanging there, and it's trying to escape, one tie-down at a time, hee hee …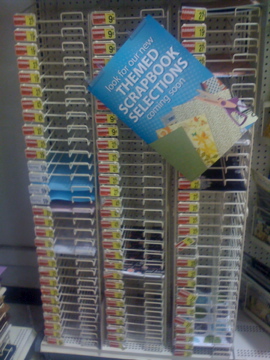 Here are some new Primas I hadn't seen before. Or if I did, I don't remember. And that happens sometimes. I have Mommy Brain so that's my excuse.
These photos are from about 2 weeks ago.
YES! I finally found the scrapbook t-shirts I've been LOOKING FOR.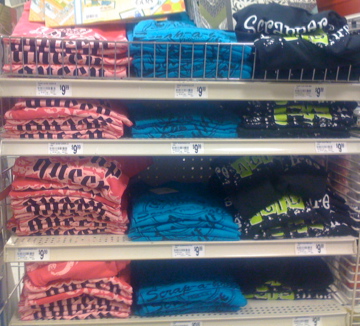 I got the turquoise one that says "Certified Scrapaholic for Life" … yeah, that's pretty accurate, I'd say. Used a 40% off coupon and got it for 6 buckeroonies. That's cheaper than a screen printed shirt you'll find anywhere else.
.
.
.
I found this interesting … these albums were on clearance at my other Mike's store but here they're full price …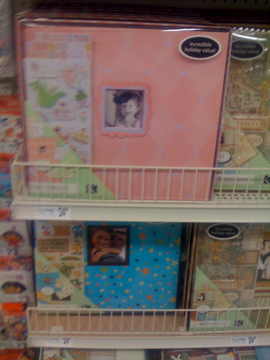 .
.
.
Same with the Gypsy skins … full price here, on clearance at my other store.
I forgot to post pictures from THIS TRIP, so here they are …
.
.
.
Iris clamshell case, on sale for 40% off. I use these to store projects so I can keep everything together, even the album I'm using. I try to buy 1 whenever they're on that good of a sale.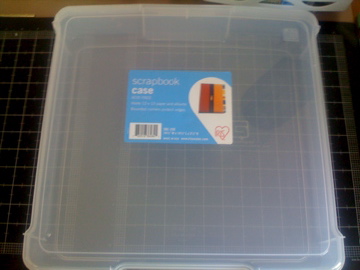 .
.
.
Recollections Christmas light glitter sticker borders, the Sandylion epoxy punctuation stickers I talked about, and an "I love my teacher" sticker to use on the school yearbook. I always give a shout out to the teachers on the pages I do for the yearbook.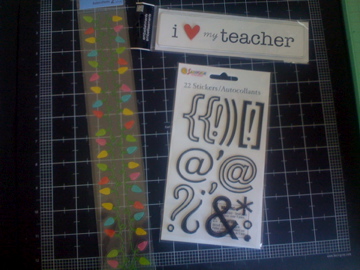 .
.
.
Finally, this awesome cool iron on transfer. I think it was about $6.50 and I used a 40% coupon on it. This manufacturer had some really neat designs, both Christian themed and non. I thought this was a pretty design and "inspired" like a scrapbooker is. I'm kind of nervous to use it for fear of messing it up. Have you used iron-ons? Please tell me it went well, LOL!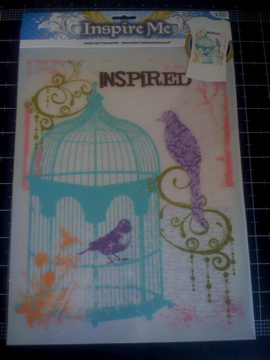 I took this photo of a neat KI MEMORIES paper stack way back on March 12, but I just saw this stack … it's still in my Mike's. Great price and cute, versatile, happy patterns … would be great with the spring and summer layouts we have coming up.
Okay, I think I'm caught up with all my Michaels updates. I shall sleep well tonight, because Scrapper Babes, you have been informed!