I was at Tuesday Morning recently and you'll never believe who I found: PARIS HILTON! Well, her line of scrapbooking supplies anyway.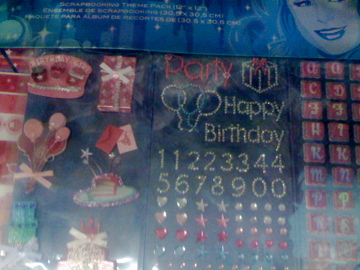 Yes, I knew she had a scrapbooking line out there somewhere (I wrote about it way back HERE), but had never seen it online nor in stores. I began to think it didn't truly exist.
But there is was at Tuesday AM, in all it's sparkly, glittery glory. I have absolutely nothing against the girl but it didn't surprise me in the least that her stuff was not my cup of tea. A bit much and OTT (over. the. top.). But, hey girl, more power to ya!
If the fact that Paris loves to scrapbook so much that she created her own line, and she gets one person scrapping, then it was all worth it. Wouldn't you say?
Paris, honey … you just GO, gurl! Hollah!