In THIS post, I told you all about the Gratitude Project I'm participating in. I was originally going to do this project as a 12×12 album and went to work right away on the introduction page. I couldn't decide between these two looks, so I posted them over at the AMR message board for opinions on which one was best: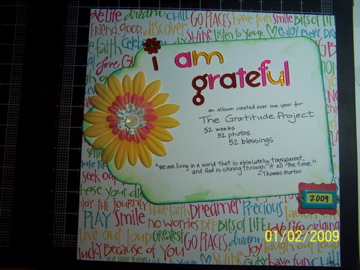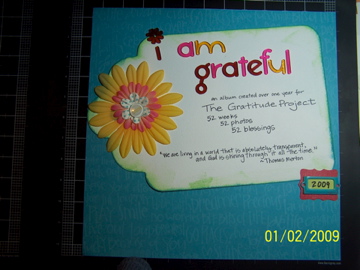 The more popular choice was the white background because, although the turquoise side has all the same fun words, they were harder to see. I decided to go with the white background, but then started having serious misgivings about choosing the 12×12 format. Just seemed too big to fill up the whole page, as I'm not generally a 1-photo per page scrapper anyway. I decided to switch over to an 8.5×11 format and I found a plain, 3-ring binder at Walmart for 3 bucks. It had the kind of cover where you can slip in a page so luckily I was able to convert my title page to the smaller format. Thank gosh because getting those KI Memories "Alphabet Soup" letters undone and starting over would've been a bee-otch, LOL.
Here is the title page, now on the cover of my album: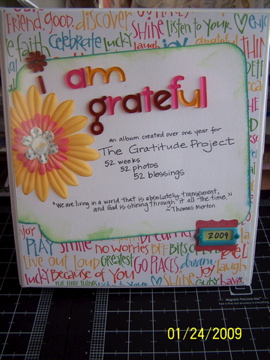 And here is the layout for Week One: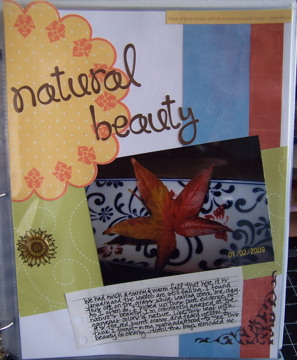 The journaling reads: "We had such a sunny & warm fall that here it is January and the leaves are still falling. I found this one on the grass while leaving work one day. As I often do, I picked up this pure evidence of nature's beauty. I'm constantly amazed at the gorgeous colors of nature, like this leaf with it's fire red, burnt orange, and faded yellow. I think I forgot ~ in my young adulthood ~ to "see" this beauty so clearly…until the kids reminded me."
And that's all folks…all I've managed to finish so far.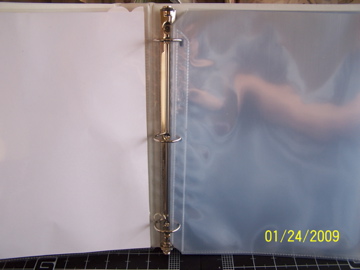 Depending on when you start counting, we're 3 or 4 weeks into 2009 and I'm already behind. This does not bode well. I hope that by outing myself on my blog, I'll be more motivated to get caught up. I have the photos and ideas for 2 more layouts, I just need to print the photos and get 'em done!
As you can see by my simple style, I'm not the greatest scrapper but I hope you'll enjoy my pages anyway, and find things to be grateful for in your own life….