Okay, first let me tell you about the bags. Here they are from the All My Memories WEBSITE:
Tote-ally Cool! Tote 2 – Black Pinstripe
Features: • Lazy Susan carousel attaches magnetically to the bottom • 21 pouches and pockets to accommodate all kinds of crafting tools and materials • Reinforced hidden drawer with zippered flap for security • Cell phone pouch with clever faux-buckle magnetic snap • Breakaway O-ring allows handle to unlatch • Handy mesh beverage pouch
Fabric: Heavy-duty canvas
Size: 8.5"L x 10"W x 18.5"H
Weight: 2.9 lbs.
Price: $29.99
Then, there's the cute little one, the Tote-ally Cool! Mini Tote 2 – Black Pinstripe.
Features: • Zippered front pouch • Easy-carry handle • 4 elasticized tool loops • Total of 15 open pouches to accommodate all kinds of crafting tools and materials• Covered pouch with secure Velcro flap • Hidden pull-out drawer with zippered flap for security
Fabric: Heavy-duty canvas
Size: 4" x 4" x 10`"
Weight: 7.2 ozs.
Price: $11.99
So, add those together and you get a total price of about $42. You wanna' know how much COSTCO sells BOTH of these together for???? ONLY $24 !!! Sweet deal, eh? I got this version, the black pinstripe, and my Costco also had them in pink. I'm super scrap happy, because I'd been eyeing these totes for a long time but didn't want to pay that much. Yahoo! I got both for less than the retail price for just one. By the way, I have the link above to Costco.com, but I couldn't find the totes on their website. Maybe they are in-store only?
Okay, then there's the tags. Thanks to Gladys/Oreosmom over on CKMB, I also got these wicked Christmas tags at Costco today. It's a huge pack of 60 gift tags and 4 gift card holders. They are very nicely embellished and super cute. One has a pair of ice skates, and the blades are made out of paperclips (clever!)…I mean, we obviously have the talent, but who has the time??
Here are the tags on a website, but the picture is small:
Here are my photos – don't know about the lighting:
She claims to have started another CKMB Frenzy and I have to agree.
"Frenzy", def. Noun. When someone finds a cool product that we all must have, and then a shopping frenzy starts. We credit the popularity of Mike's stamps to our CKMB frenzy. Other Frenzy examples: Prisma pencils, Cricut die cutting machine, Tim Holtz Grunge Board, Costco MME stack, Target stamps…just too many to mention.
Anyway, here are some links to CKMB about the Frenzy, and showing you the cards Gladys has made using these fabu Christmas tags. You'll be able to see the tags much better than in my lame photos. I'll post (good) pics of my cards if I actually get them done before Christmas!
ANOTHER CARD WITH A COSTCO TAG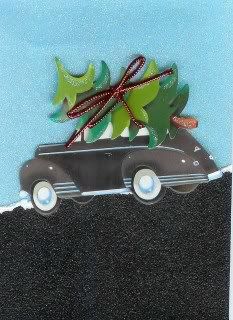 This huge set of tags was only $8 at Costco. So for about 12 or 13 cents per tag, you can make some rockin' Christmas cards.