When I was at Michaels last week, I noticed this sign on one of the almost empty paper racks advertising "Themed Scrapbook Collections."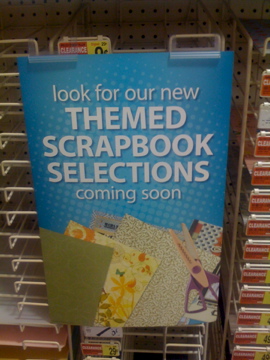 I'm not sure what to make of it. About 6-8 months ago, I guess, both of the Mike's I shop at introduced some new "theme" areas, including Travel, Baby Boy, and Baby Girl. Instead of grouping items by type (letters, papers, stickers, etc.) like they do throughout the rest of the scrapbook area, they pulled everything having to do with, say, travel, and displayed it all in one area. They even added some new travel items to the mix and did the same for baby boy and baby girl.
So, it this going to be more of that? I'm not sure. But inquiring minds want to know already! Bring it on, Mike's.
I learned about another new thing upon checkout: Michaels is reinstating their Friday night crop nights. The flyer says …
——–
"Michaels crop nights, last Friday of the month*, 5pm-8:45pm. Do you and your friends need a place to get together and craft?
*Crop Nights will not be held in November & December and Michaels reserves the right to discontinue Crop Nights at any time.
Join us the last Friday of every month for Michaels crop night. Michaels provides the space and an assortment of tools.** The best part is that Michaels takes care of the cleanup.
**Available tools will vary. Please ask store associate at time of reservation about store-specific tools.
Reserve your spot today! Space is limited and must be reserved in advance. Reservations can be made by paying $5 or showing proof of $10 scrapbooking purchase in the last 30 days. Reservations are first come, first serve. Please see a Store Associate to reserve your spot to crop!"
——–
First, can I say … ? The dang flyer had several typos or just plain mistakes (I fixed them when I typed the wording above). They must've fired their flyer editor. Wow. Embarrassing.
Second, I'm glad to see the crop nights are back. I'm kind of confused … Are they having a crop night set up there every last Friday with a random group of people, or do you have to set it up yourself and bring your friends? Say you call them on Wednesday and you'd like to reserve your spot to crop Friday night … Is the crop happening and they're taking other sign-ups, or is it more like your reserving the room for you and your friends?
Thirdly, why only 3.75 hours? That's what most of the Peas said HERE and I have to agree. Hardly seems worth the time to pack up your stuff and drive there. Why not have it for longer? If they're taking sign-ups (which I'm still confused about), they could do them in 4-hour slots like 1-5pm and 5-9pm. If you wanted to come for 8 hours, you take 2 slots so they don't overbook the space. If you can only come after work in the evening, you sign up just for the 5-9pm slot. Better yet, why not do it on Saturdays? It's almost like they want the idea to fail, don't you think?
You know the scrapbooking T-shirts at Michaels that I mentioned HERE? Well, sounds like the stores are starting to get them in stock. Some of the Peas already HAVE THEM. One Pea said she used her 40% coupon and got her tee for $6. That's a great price for any kind of tee, much less a scrapbooking one. I hope I get the chance to go by Mike's tomorrow …