I've been so busy, I don't think I ever posted this, but my friend ABBY (a supa-talented scrapper) sent me some sweet PRESSIES a while back. Not only is she an amazing scrapbook talent but the girl can sew, too!
In addition to the gorgeous, ribbon-trimmed tote she sent me, she also made some ribbon and crepe paper ruffles for me to use on layouts. Well, today was the perfect day to use one! A scrapbook message board I belong to has a challenge posted to use "journaling spot clusters" a la STEPHANIE HOWELL and since mine ended up being a girly-girl layout, I was able to use one of Abby's ribbon ruffles.
Anyway, here is one of STEPHANIE'S LAYOUTS to show what is meant by journaling cluster … in other words, break out all those journaling stickers and die cuts and use them to tell your story, girlfriend!
Wow, okay! It's going to be pretty embarrassing to put my layout right after Stephanie's, who is one of my favorite scrappers and is so talented. What am I, a glutton for punishment?? Huh. I guess so. 'Cuz this is where I post the layout that I did for the journaling spot cluster challenge – HA!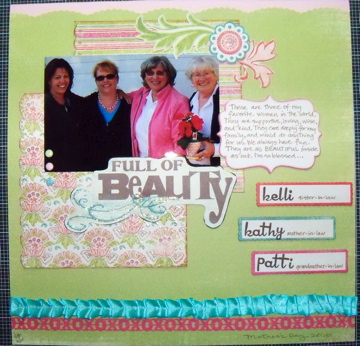 .
Here's a close-up of the journaling …
.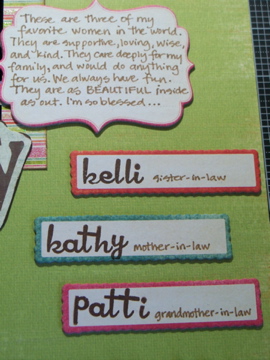 .
A close-up of the ribbon ruffle … made by Abby :) Because I'm not allowed near a sewing machine.
.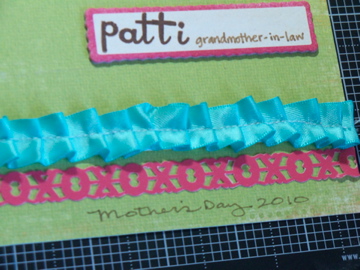 .
The layout is very bling-y and glittery in person, although my photo doesn't show it that well. Here you can see the Stickles I added to the title, and some glitter brads.
.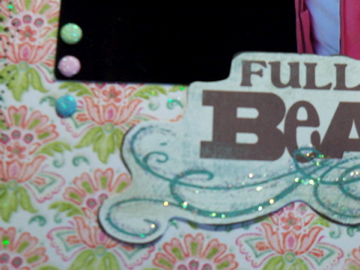 Almost all of the supplies are from the My Minds Eye "Home" line – the paper, die cuts, chipboard journaling spots, and the title. The font stamp is American Crafts "Ginger," and the paper "XOXO" ribbon at the bottom is by Brenda Walton for K&Company. I also used "Icicle" Stickles, brown Cats Eye chalk ink, and Sugar Coated brads by Doodlebug. Oh, and border punches by Fiskars and Martha Stewart.
It felt so good to scrapbook again. I have to admit it's been quite a while … since the last crop I went to over a month ago, ack! I hope you've been better about scrapping than I have. Well, now that my desk is cleared off, maybe I'll get back into scrapping mode.
How about you … you been scrapping lately?